Patio String Lights - Bulbs Included

14 ft. Patio Stringer - Comes with (10) Incandescent 2 in. Dia. Globe Light Bulbs
Black Wire - (10) Household Candelabra Sockets - 16 in. Socket Spacing - Male to Female Plug Connections - Bulbrite 810054
Wire Color: Black
Wire Gauge: 16 AWG
Maximum Wattage: 880 Watts
Socket Type: Candelabra (E12)
Wire Type: SPT-2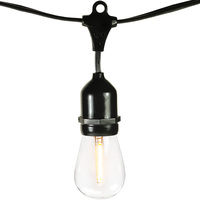 14 ft. Patio Stringer - Comes with (10) Incandescent 1.75 in. Dia. S14 Light Bulbs
Black Wire - (10) Suspended Household Medium Sockets - 16 in. Socket Spacing - Male to Female Plug Connections - Bulbrite 810006
Wire Color: Black
Wire Gauge: 16 AWG
Maximum Wattage: 880 Watts
Socket Type: Medium (E26)
Wire Type: SPT-2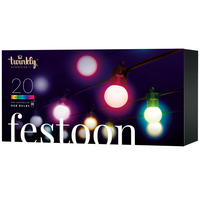 Twinkly Festoon - 33 ft. RGB LED Outdoor Patio Light Stringer
20 RGB Bulbs - App-Controlled - Black Wire - Twinkly TWF020STP-BUS
Color: Addressable RGB
Wattage: 36 Watt
Connection: Male Only
Lighted Length: 32.8 ft.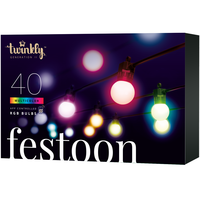 Twinkly Festoon - 66 ft. RGB LED Outdoor Patio Light Stringer
40 RGB Bulbs - App-Controlled - Black Wire - Twinkly TWF040STP-BUS
Color: Addressable RGB
Wattage: 36 Watt
Connection: Male Only
Lighted Length: 66 ft.




Patio String Lights - Bulbs Included
Transform your outdoor space into a cozy oasis with the warm and inviting glow of patio string lights with bulbs included! Whether you're entertaining guests or simply enjoying a quiet evening under the stars, these lights provide the perfect ambiance for any occasion. With their durable construction and easy-to-use design, you can set them up in minutes and enjoy their beautiful glow for years to come.
With their versatile style and classic charm, these patio string lights with bulbs included are the perfect addition to any outdoor space. Their warm, golden light creates a cozy atmosphere that will make you never want to leave your backyard. Plus, their commercial-grade construction ensures that they can withstand even the toughest weather conditions, making them a reliable and long-lasting addition to your outdoor decor. So why wait? Add these stunning patio string lights to your outdoor space today and start enjoying the benefits of a beautiful and inviting atmosphere right in your own backyard!