Pink C9 LED Christmas Light Bulbs

Pink - LED C9 - Christmas Light Replacement Bulbs - Faceted Finish
Intermediate Base - 50,000 Life Hours - SMD LED Retrofit Bulb - 120 Volt - Pack of 25
Wattage: 0.5 Watt
Amperage: 0.01 Amps
Height: 3.25 in.
Diameter: 1.1 in.
Sold only by the 25 Pack for $20.86

Discount Available!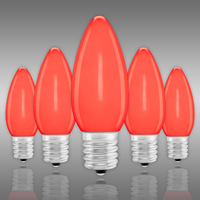 (NEW Technology) C9 - Pink - Opaque LED - VividCore Premium - 50% Brighter
Pack of 25 - CMS-10272
Wattage: 0.74 Watt
Amperage: 0.01 Amps
Height: 2.85 in.
Diameter: 1.1 in.
Sold only by the 25 Pack for $27.80

Discount Available!
Pink C9 LED Christmas Light Bulbs
Transform your holiday decor with the help of these stunning pink LED Christmas light bulbs. These bulbs are designed with a large C9 shape that is easy to spot from a distance. They also feature a faceted finish that diffuses the light for an even and bright glow so they're an excellent choice for creating eye-catching lighting arrangements.
One of the best things about these bulbs is that they are incredibly energy-efficient. Unlike traditional incandescent C9 bulbs, these LED bulbs consume less than one watt each. These bulbs are also incredibly durable and long-lasting, which means you can use them year after year without worrying about replacing them. With their energy efficiency and long life, these bulbs are a great investment for any home or business.
These pink LED Christmas light bulbs are incredibly versatile and can be used for a variety of occasions. You can install them on a stringer for retro holiday lighting for Christmas or Valentine's Day and enjoy soft ambient illumination that won't strain your eyes. Order your pink LED C9 bulbs today and add a pop of color to your holiday decor!