Red C9 Incandescent Christmas Light Bulbs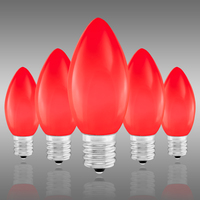 C9 - 7 Watt - Opaque Red - Incandescent Christmas Light Replacement Bulbs
Intermediate Base - 120 Volt - 25 Pack
Bulb Color: Red
Voltage: 120
Base Type: Intermediate (E17)
Package Quantity: 25
Sold only by the 25 Pack for $9.02


C9 - 7 Watt - Transparent Red - Incandescent Christmas Light Replacement Bulbs
Intermediate Base - Triple Dipped - 130 Volt - 25 Pack
Bulb Color: Red
Voltage: 130
Base Type: Intermediate (E17)
Package Quantity: 25
Sold only by the 25 Pack for $9.02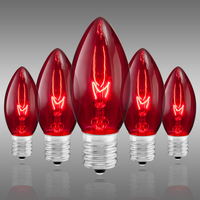 C9 - 7 Watt - Transparent Red - Incandescent Christmas Light Replacement Bulbs
Intermediate Base - Double Dipped - 130 Volt - 25 Pack
Bulb Color: Red
Voltage: 130
Base Type: Intermediate (E17)
Package Quantity: 25
Sold only by the 25 Pack for $9.04

Red C9 Incandescent Christmas Light Bulbs
Red C9 incandescent Christmas light bulbs are a popular choice for adding a festive touch to holiday decor. These bulbs have a classic look and are a staple in many homes during Christmas. With their warm glow and traditional color, they are sure to bring joy to your family and friends throughout the holiday season.
C9 bulbs are larger than traditional Christmas light bulbs and are often used for decorating outdoors. These red C9 bulbs can be used to outline the roofline of a house, wrap around trees and shrubs, or decorate outdoor structures like gazebos and porches. They have a unique shape that sets them apart from other holiday lights and their larger size makes them more visible from a distance.
These red bulbs are often used in combination with other colors such as green and white to create a traditional holiday color scheme. One of the benefits of using incandescent bulbs is that they have a warm glow that creates a cozy and inviting atmosphere.
When choosing red C9 incandescent Christmas light bulbs, it's important to select bulbs that are the appropriate wattage for your needs. You should also consider the length of the string of lights and the number of bulbs needed to cover the area you want to decorate.