Single Circuit | Track Lighting Track Connectors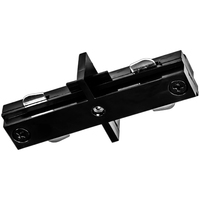 Black - Straight Connector - Single Circuit
Compatible with Halo Track - PLT Solutions - PLTS-12286
Elevate your commercial lighting setup with PLT Solutions' Black Straight Connector. Designed for Halo Track compatibility, this connector ensures seamless and efficient connectivity. PLTS-12286 is a reliable, single circuit solution for all your lighting needs.

White - Straight Connector - Single Circuit
Compatible with Halo Track - PLT Solutions - PLTS-12287
Upgrade your commercial lighting system with PLT Solutions' White Straight Connector. This single circuit connector is compatible with Halo Track and ensures seamless connectivity. Trust PLT Solutions for top-quality lighting products. PLTS-12287.



Halo LZR212P - White - Mini Connector
Single Circuit
Compatibility: Lazer Track