T8 Retrofit LED Tube Lights - 3500 Kelvin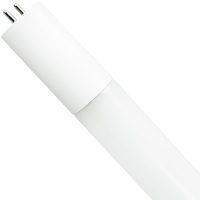 1250 Lumens - 8 Watt - 3500 Kelvin - 2 ft. LED T8 Tube Lamp - Type A Plug and Play
Operates with Compatible T8 Ballasts - 120-277 Volt - Case of 25 - PLT-90224
Life Hours: 50,000
Compatibility: Instant Start, Program Start, Rapid Start
Operation: Type A Plug and Play
Lampholder(s): Non-shunted, Shunted
Warranty: 5-Year Limited
Sold only by the Case of 25 for $116.96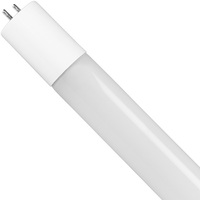 1150 Lumens - 9 Watt - 3500 Kelvin - 2 ft. LED T8 Tube Lamp - Type B Ballast Bypass
Single-Ended or Double-Ended Power - 120-277 Volt - Case of 25 - PLTS-20125
Life Hours: 50,000
Wiring: Double-Ended Wiring, Single-Ended Wiring
Operation: Type B Ballast Bypass
Lampholder(s): Non-shunted, Shunted
Length: 23.78 in.
Diameter: 0.98 in.
Warranty: 5-Year Limited
Sold only by the Case of 25 for $147.91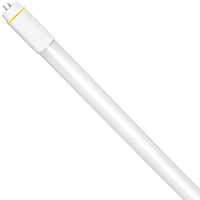 900 Lumens - 7 Watt - 3500 Kelvin - 2 ft. LED T8 Tube Lamp - Type B Ballast Bypass
Single-Ended Power or Double-Ended Power - 120-277 Volt - Case of 25 - Halco 84871
Life Hours: 50,000
Wiring: Double-Ended Wiring, Single-Ended Wiring
Operation: Type B Ballast Bypass
Lampholder(s): Non-shunted, Shunted
Warranty: 5-Year Limited
Case Quantity: 25
Sold only by the Case of 25 for $210.10

Discount Available!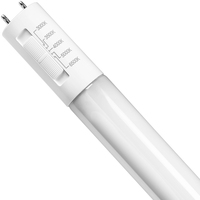 Sold only by the Case of 25 for $215.60



2 ft. LED T8 Bulbs - 3500K
LED tubes just up to 90 percent less energy and last much longer than fluorescent tubes. So if you're planning on installing new lights or retrofitting existing fixtures, LED tubes are the way to go. These T8 bulbs emit a 3500K color light, similar to halogen bulbs, often used to help create a more relaxing atmosphere. Our team of lighting experts is also here to help you find the right T8 for your application.