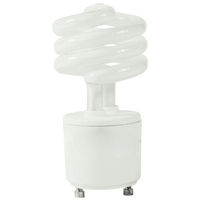 Spiral CFL - 13 Watt - 60W Equal - 2700K Soft White
GU24 Base - Satco S8203
Bulb Shape: Spiral
CRI: Standard CRI
Bulb Color: Soft White
Color Temperature: 2700 Kelvin
Life Hours: 10,000
Wattage: 13 Watt
Incandescent Equal: 60 Watt
Lumens: 800
CA Title 20: Compliant
Base Type: GU24
Length: 3.39 in.
Diameter: 1.81 in.
Case Quantity: 12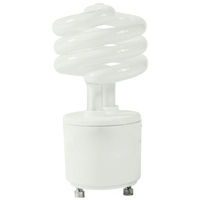 Spiral CFL - 18 Watt - 75W Equal - 2700K Soft White
GU24 Base - Satco S8205
CRI: Standard CRI
Bulb Color: Soft White
Color Temperature: 2700 Kelvin
Life Hours: 10,000
Wattage: 18 Watt
Incandescent Equal: 75 Watt
Lumens: 1,200
CA Title 20: Compliant
Base Type: GU24
Length: 4.48 in.
Diameter: 2.13 in.
Case Quantity: 12


Shatter Resistant - Spiral CFL Bulb - 13 Watt - 60 Watt Equal - Incandescent Match
900 Lumens - 2700 Kelvin - GU24 Base - 120 Volt - PLT ESGU24-13W-WW/TF
Life Hours: 10,000
Lumens: 900
Base Type: GU24
Length: 3.9 in.
Case Quantity: 50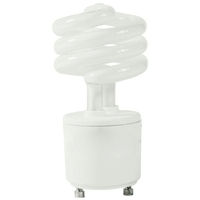 T2 Spiral CFL - 13 Watt - 60W Equal - 4100K Cool White
GU24 Base - Satco S8208
Energy Star: No
Bulb Shape: T2
Safety Rating:
CRI: Standard CRI
Bulb Color: Cool White
Color Temperature: 4000 Kelvin
Life Hours: 10,000
Wattage: 13 Watt
Incandescent Equal: 60 Watt
Lumens: 800
CA Title 20: Compliant
Base Type: GU24
Warranty: 15 Months Limited


Spiral CFL - 15 Watt - 60W Equal - 2700K Soft White
GU24 Base - Satco S8204
Bulb Shape: Spiral
CRI: Standard CRI
Bulb Color: Soft White
Color Temperature: 2700 Kelvin
Life Hours: 10,000
Wattage: 15 Watt
Incandescent Equal: 60 Watt
Lumens: 950
CA Title 20: Compliant
Voltage: 120
Base Type: GU24
Length: 4.29 in.
Diameter: 2.13 in.
Case Quantity: 12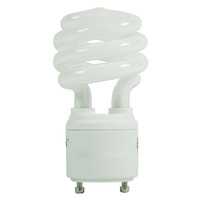 Spiral CFL - 11 Watt - 40W Equal - 2700K Soft White
GU24 Base - Satco S8202
Bulb Shape: Spiral
CRI: Standard CRI
Bulb Color: Soft White
Color Temperature: 2700 Kelvin
Life Hours: 10,000
Wattage: 11 Watt
Incandescent Equal: 40 Watt
Lumens: 650
CA Title 20: Compliant
Base Type: GU24
Length: 3.46 in.
Diameter: 1.81 in.
Case Quantity: 12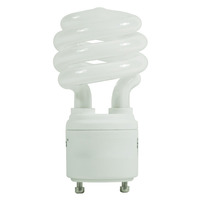 Spiral CFL - 9 Watt - 40W Equal - 2700K Soft White
GU24 Base - Satco S8201
Bulb Shape: Spiral
CRI: Standard CRI
Bulb Color: Soft White
Color Temperature: 2700 Kelvin
Life Hours: 10,000
Wattage: 9 Watt
Incandescent Equal: 40 Watt
Lumens: 500
CA Title 20: Compliant
Base Type: GU24
Length: 3.46 in.
Diameter: 1.57 in.
Case Quantity: 12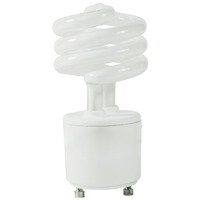 Spiral CFL - 26 Watt - 100W Equal - 2700K Soft White
GU24 Base - Satco S8207
Bulb Shape: Spiral
CRI: Standard CRI
Bulb Color: Warm White
Color Temperature: 2700 Kelvin
Life Hours: 10,000
Wattage: 26 Watt
Incandescent Equal: 100 Watt
Lumens: 1,750
CA Title 20: Compliant
Base Type: GU24
Length: 4.92 in.
Diameter: 2.13 in.
Case Quantity: 12


Spiral CFL - 23 Watt - 100W Equal - 2700K Soft White
GU24 Base - Satco S8206
CRI: Standard CRI
Bulb Color: Soft White
Color Temperature: 2700 Kelvin
Life Hours: 10,000
Wattage: 23 Watt
Incandescent Equal: 100 Watt
Lumens: 1,600
CA Title 20: Compliant
Base Type: GU24
Length: 4.96 in.
Diameter: 2.13 in.
Case Quantity: 12



Spiral CFL - 26 Watt - 120W Equal - 3500K Halogen White
GU24 Base - Satco S8233
Bulb Color: Halogen White
Color Temperature: 3500 Kelvin
Life Hours: 10,000
Wattage: 26 Watt
Incandescent Equal: 120 Watt
Lumens: 1,750
Enclosed Fixture Rated: Yes
CA Title 20: Compliant
Base Type: GU24
Length: 5.16 in.
Diameter: 2.13 in.
Case Quantity: 12
Sold only by the ea. for $8.82
SATCO-S8233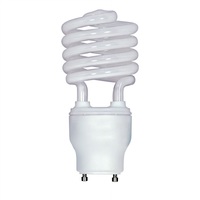 Spiral CFL - 23 Watt - 100W Equal - 4100K Cool White
GU24 Base - Satco S8210
Bulb Color: Cool White
Color Temperature: 4000 Kelvin
Life Hours: 10,000
Wattage: 23 Watt
Incandescent Equal: 100 Watt
Lumens: 1,600
Enclosed Fixture Rated: Yes
CA Title 20: Compliant
Base Type: GU24
Length: 4.41 in.
Diameter: 2.13 in.
Case Quantity: 12



Designed to replace bulbs with medium (E26) bases, CFL GU24 bulbs are for use with GU24 sockets. These bulbs have two pins extending on the bottom of the base that allow the bulb to twist and lock into place. GU24 sockets are becoming more popular and are used in lamps, wall sconces, recessed cans, and other overhead lighting. CFL GU24 base lamps use less energy than incandescents and last longer, reducing both energy and replacement costs. Many of these bulbs meet Title 20 and Energy Star certifications and may qualify for local or state rebates, providing additional savings.
GU24 sockets and bulbs are required in order to meet lighting regulations in the state of California. Fixtures using CFL GU24 bulbs are considered high efficiency under Title 24 regulations and do not need to meet the newer JA8 certifications. Keep in mind that other states tend to follow California's example within a few years, so your state may be adopting these regulations soon. Make sure to check the current building codes before starting new construction projects.
Where to Use CFL GU24 Bulbs
GU24 socketed fixtures can be found in a variety of locations including homes, waiting rooms, and retail stores. For a warm light that similar to incandescents, use bulbs that produce a 2700 Kelvin light. Brighten lobbies and boutiques with a 3500 Kelvin light. To help reduce eye strain in classrooms, look for bulbs that have a 4000 Kelvin light. 5000 Kelvin light simulates daylight and is ideal for increasing awareness in offices and hospitals.