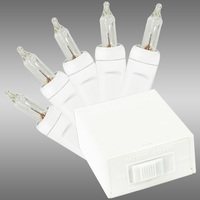 5 ft. Battery Operated Christmas Light Stringer - (15) Clear Bulbs
4 in. Bulb Spacing - White Wire - Incandescent Mini Lights - Indoor
Bulb Color: Clear
Wire Gauge: 22 AWG
Battery Size: (2) C Batteries
Lighted Length: 3.83 ft.
Bulbs Per String: 15
Case Quantity: 60

Discount Available!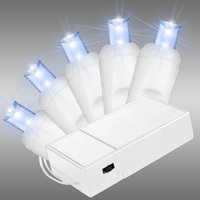 8.3 ft. Battery Operated Christmas Light Stringer - (20) Cool White LED Bulbs
4 in. Bulb Spacing - White Wire - Wide Angle Mini Lights - Indoor/Outdoor
Bulb Color: Cool White
Wire Color: White
Wire Gauge: 22 AWG
Battery Type: (3) AA Batteries (Not Included)
Lighted Length: 6.6 ft.
Bulbs Per String: 20
Case Quantity: 24

Discount Available!
Battery Operated Lights for Weddings
Battery operated lights for weddings are a popular and convenient option for decorating indoor and outdoor wedding venues, creating a romantic and magical atmosphere. These string lights use batteries instead of being plugged into an electrical outlet, making them versatile and easy to use.
Our battery operated string lights with white wire and a white battery box are perfect for adding a whimsical touch to any wedding decor, including table settings, centerpieces, backdrops, and more. We also offer a wide range of color options to match your wedding theme and style.
One of the biggest advantages of battery operated lights for weddings is their portability. You can use them to decorate anywhere you want without worrying about finding an outlet or tripping over cords. This means you can easily decorate outdoor areas, trees, and other hard-to-reach spots without having to worry about running an extension cord or finding a nearby outlet.
Another benefit of battery operated lights is that they are energy efficient and long-lasting. Since they don't rely on electricity from a power outlet, they can help you save on your energy bills and reduce the risk of electrical accidents.
Shop our selection of battery operated lights for weddings today and make your special day even more memorable!