Black Wire Patio Light Stringers - Intermediate Base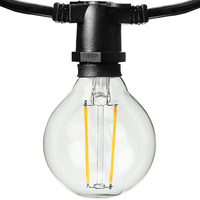 100 ft. Patio Stringer - (75) Household Intermediate Sockets - Bulbs Not Included
Black Wire - 15 in. Socket Spacing - Male Only Plug Connection - PLT Solutions PLT-305129
Wire Color: Black
Wire Gauge: 16 AWG
Maximum Wattage: 960 Watt
Socket Type: Intermediate (E17)
Wire Type: SPT-2
330 ft. Patio Stringer - (264) Household Intermediate Sockets - Bulbs Not Included
Black Wire - 15 in. Socket Spacing - No End Plugs - PLT Solutions - PLT-305133
Wire Color: Black
Wire Gauge: 16 AWG
Maximum Wattage: 1440 Watt
Socket Type: Intermediate (E17)

Black Wire Patio Light Stringers - Intermediate Base
Enhance the ambiance of your outdoor event with black wire patio light stringers. These versatile stringers feature a black electrical wire with intermediate base sockets, making it easy to create a unique and personalized lighting design for weddings, birthdays, and other gatherings. Choose from a variety of bulbs, including energy-efficient LED options, to create a warm and inviting atmosphere.
Patio light stringers offer a sleek and modern look that can complement a range of styles, from contemporary to industrial. They provide a bright and inviting glow that can create a cozy and welcoming atmosphere for any outdoor space.
Installation of patio light stringers is easy, and they can be hung from trees, fences, or other structures. Simply plug them into a standard outdoor electrical outlet for power.
Black wire patio light stringers with intermediate base sockets are a durable and customizable lighting solution that can be tailored to fit the specific needs of your space and personal style preferences. Shop now to create the perfect ambiance for your outdoor event.