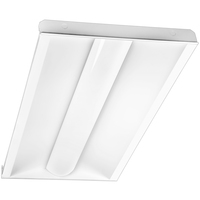 Wattage and Color Selectable - 2 x 4 LED Troffer - Watts 34-38-45 - Kelvin 3500-4000-5000
Lumens 4658-5092-6002 - 120-277 Volt - PLT-90191
Color Temperature: 3500 Kelvin, 4000 Kelvin, 5000 Kelvin
Life Hours: 50,000
Wattage: 34 Watt, 38 Watt, 45 Watt
Lumens: 4,700, 5,100, 5,895
Length: 47.8 in.
Height: 2.8 in.
Width: 23.8 in.
Warranty: 5 Years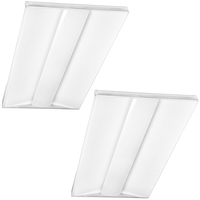 Wattage and Color Selectable - 2 x 4 LED Troffer - Watts 33-40-50 - Kelvin 3000-4000-5000
Lumens 4125-5000-6250 - 120-277 Volt - 2 Pack - Euri Lighting ETF24-50W103sw-2
Life Hours: 50,000
Wattage: 33 Watt, 40 Watt, 50 Watt
Lumens: 4,125, 5,000, 6,250
Length: 47.36 in.
Width: 23.74 in.
Warranty: 5 Years


Sold only by the 2 Pack for $161.45
IRT-10295

Wattage and Color Selectable - 2 x 4 LED Troffer - Watts 24-29-32-39 - 3500-4000-5000 Kelvin
Lumen Range 3384-5889 - 120-277 Volt - Halco 81781
Life Hours: 50,000
Wattage: 24 Watt, 29 Watt, 32 Watt, 39 Watt
Lumens: 3,384, 4,384, 4,495, 5,889
Length: 47.7 in.
Height: 2.2 in.
Width: 23.8 in.
Warranty: 5 Years
Case Quantity: 1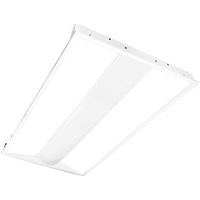 Wattage and Color Selectable - 2 x 4 LED Troffer - Watts 23-29-38 - Kelvin 3500-4100-5000
Lumens 2600-3200-4200 - 120-277 Volt - TCP TRV4UZD38CCT
Life Hours: 50,000
Length: 47.81 in.
Width: 23.81 in.
Warranty: 5 Years


2 x 4 LED Troffers
Whether you're replacing an old 2x4 LED troffer or your remodel needs a new one, you're sure to find what you're looking for with 1000Bulbs.com. These troffers are great for indoor applications such as schools, hospitals and commercial office spaces because they provide clear, even lighting. Finding the perfect LED troffer is easy when you can choose from varying heights, wattages, widths and lengths. Life hours range from 50,000 to 100,000 hours, making the fixtures a good investment for the future. Shopping for a new 2x4 LED troffer is simple with 1000Bulbs.com. Browse below to discover the lowest prices on the largest variety of lighting fixtures.