8 ft. T8 LED Tube Lights Replacement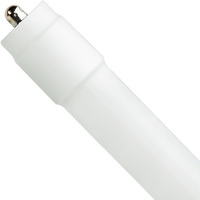 8 ft. T8 LED Tube - 43 Watt - 5500 Lumens - 5000 Kelvin
F96T8 or F96T12 Replacement - Ballast Bypass - Single Pin Base - 120-277V - Case of 10 - Halco 82876
Life Hours: 50,000
Operation: Type B Ballast Bypass
Lampholder(s): Shunted
Warranty: 5 Years


Sold only by the Case of 10 for $212.23
HALCO-82876
5500 Lumens - 8 ft. T8 LED Tube High Output - Ballast Bypass - 43 Watt - 5000 Kelvin
F96T8 or F96T12 Replacement - Recessed Double Contact Base - 120-277 Volt - Case of 10 - TCP LT8R43B250KBP
Life Hours: 50,000
Operation: Type B Ballast Bypass

Sold only by the Case of 10 for $231.12
TCP-10296
5500 Lumens - 8 ft. T8 LED Tube - Ballast Bypass - 43 Watt - 5000 Kelvin
F96T8 or F96T12 Replacement - Single Pin Base - 120-277V - Case of 10 - TCP LT8F43B250KBP
Life Hours: 50,000
Operation: Type B Ballast Bypass
Lampholder(s): Non-shunted
Warranty: 5 Years


Sold only by the Case of 10 for $231.11
TCP-10293
Suitable for use in strip lights and high bay fixtures, these energy efficient tubes help reduce maintenance and replacement costs, lasting far longer than fluorescent tubes. Common applications include hospitals, warehouses, and parking garages. Sold by the case for added convenience, some tubes are DLC certified and could qualify for state or local rebates. For added durability, some LED T8 tubes have a shatter-resistant coating that meets NSF/ANSI requirements.
Ballast Bypass
Ballast bypass or direct wire tubes operate directly off of the line voltage. The existing ballast is removed from the fixture during installation, eliminating maintenance costs and compatibility issues associated with ballasts. These double-ended tubes can be used with the existing single pin (FA8) sockets and require that the fixture have power on both ends. Some tubes can replace both T8 and T12 fluorescents.
Ballast Compatible
Ballast compatible tubes, or plug-and-play lamps, work with the existing ballast in your fluorescent fixture making installation a breeze with no need for rewiring. Your ballast must be listed on the ballast compatibility PDF found on the product's page. If the ballast is compatible, simply plug the lamp into the existing FA8 sockets.
High Output
Installing as double-ended direct wire tubes, high output tubes replace T8 HO and T12 HO fluorescent lamps. Featuring a recessed double-contact (R17d) base, these tubes operate with the existing sockets once the ballast has been removed and the fixture rewired.
For assistance finding the right 8-foot LED T8 tube, call 1-800-624-4488 today to speak with one of our knowledgeable lighting experts!