Non-IC-Rated Recessed Lighting Fixtures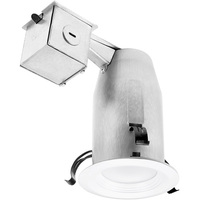 450 Lumens - 3 in. LED Downlight - 7 Watt - 45 Watt Equal - 3000 Kelvin
93 CRI - Smooth Baffle Trim - 120 Volt - Lithonia LK3BMW LED M4
Life Hours: 28,000
Inside Diameter: 3 in.
Length: 7.13 in.
Height: 6 in.
Warranty: 5 Years


What Is IC-Rating for Recessed Lights?
The light inside a recessed light fixture generates heat when turned on. This can make the exterior of the housing inside the ceiling very hot and create a fire hazard if the ceiling insulation touches the heated metal. IC-rated recessed lighting has extra protection and superior heat distribution to prevent the outside of the housing to get too hot, making it safe for insulated ceilings. Non-IC rated downlights require a 3 inch gap between the metal housing and the insulation because it doesn't have the same heat distribution properties as IC-rated fixtures. While IC-rated fixtures are primarily used for new construction, Non-IC rated fixtures are popular for remodels.
These LED downlights come in a variety of sizes, marked by the diameter of the can housing. The most common sizes are 4-inch and 6-inch. If buying for a remodel, make sure to measure the diameter of the hole or fixture being replaced before purchasing to ensure you're getting the size you need.