LED Panel and Troffer Fixtures
4500 Lumens - 40 Watt - 5000 Kelvin - 2 x 4 LED Panel Fixture
3 Lamp Equal - Dimmable - DLC 5.1 Standard - 120-277 Volt - 2 Pack - PLT-90172
Life Hours: 50,000
Length: 47.8 in.
Height: 1.6 in.
Width: 23.7 in.
Warranty: 5 Years

Sold only by the 2 Pack for $131.57
PLT-90172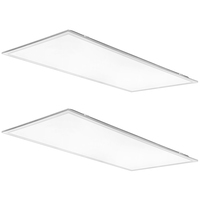 3 Wattages - 3 Lumen Outputs - 3 Colors - 2 x 4 LED Panel Fixture
Watts 30-40-50 - Lumens 3630-4680-5550 - Kelvin 3500-4000-5000 - Dimmable - DLC 5.0 Standard - 120-277 Volt - 2 Pack - PLT Solutions - PLT-90147
Life Hours: 50,000
Length: 47.8 in.
Height: 1.6 in.
Width: 23.7 in.
Warranty: 5 Years



Sold only by the 2 Pack for $136.66
PLT-90147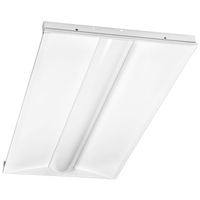 4 Wattages - 3 Lumen Outputs - 3 Colors - 2 x 4 LED Troffer Fixture
Watts 24-29-32-39 - Lumens 3768-4495-4896-5889 - Kelvin 3500-4000-5000 - Dimmable - DLC Premium 5.0 - 120-277 Volt - Halco 81781
Life Hours: 50,000
Wattage: 24 Watt, 29 Watt, 32 Watt, 39 Watt
Lumens: 3,384, 4,384, 4,495, 5,889
Length: 47.7 in.
Height: 2.2 in.
Width: 23.8 in.
Warranty: 5 Years
Case Quantity: 1


LED Troffers
LED troffers have longer lifespans and consume less power than traditional fluorescent troffers, helping you to save money on maintenance and energy costs. Available in a variety of sizes, these recessed lighting fixtures can last up to 100,000 hours to keep your spaces illuminated for years to come. For additional savings, look for DLC and DLC Premium rated fixtures as some may also qualify for state or local rebates.
Many of our LED troffers use integrated LEDs, meaning the LED arrays are built in and not replaceable. The diodes in these fixtures are designed with a specific Kelvin color temperature and lumen output, and once they reach the end of their life the fixture must be replaced.
LED ready troffers use single ended LED T8 tubes that are sold separately. This allows you to customize the light output and easily change it later as the needs of your space change.
LED Panels
LED panels offer the same exceptional energy savings as LED troffers, and many meet DLC and DLC Premium certifications. These fixtures feature a shatter-resistant lens and are sold individually or in packs. Unlike traditional troffers that can be very bulky, LED panels have an incredibly thin design, making them ideal for shallow ceilings. They only weigh about seven pounds each making them lightweight enough to allow for one-person installation, reducing labor costs. Each LED light panel comes with a built-in LED driver to eliminate compatibility issues and help you install your fixtures quickly. Designed primarily for drop-ceilings or drywall ceilings, these LED panels are remarkably easy to install. Once the integrated LED driver has been properly wired, tabs on the back of the fixture must be bent for the panel light to hang directly from the drop ceiling. Some of our LED panels also have the option of being suspension or surface mounted with the right mounting hardware or kits for greater versatility.
Edge-Lit vs. Back-Lit
LED panels are available as either edge-lit or back-lit fixtures. Edge-lit panels have LED strips placed along the edges of the fixture. Using a guide panel, the light is directed into a diffuser that evenly distributes the light output. This gives edge-lit panels a slimmer profile. Back-lit panels, on the other hand, place LED diodes in rows across the back of the fixture cavity. The light is directed directly into the lens, providing a more uniform light. These fixtures have a slightly larger profile than edge-lit panels.
Available LED Light Panel and Troffer Options
Choose the LED panel or troffer that's right for your space from our variety of size options. The color temperatures of these fixtures range from 3000 Kelvin to 5000 Kelvin. Some of our ceiling light panels and troffers are dimmable with 0-10V dimmer switches and may be compatible with motion sensors, allowing you to customize your lighting and save even more on energy. Some LED panels also include a pre-installed emergency battery backup which will power the fixture for up to 90 minutes during a power outage.
Selectable Fixtures
Ideal for both new construction and remodeling, selectable fixtures allow you to set the light output, set a color temperature, or set both during installation. These LED troffers and panels have one or two switches, usually located on the back of the fixture, which allows you to adjust the wattage, color temperature, or both. Just keep in mind that if you need to adjust the settings after installation, you will need to unmount the fixture in order to access the controls.
How the Light is Distributed
According to the Occupational Safety & Health Administration (OSHA), a well-distributed light is ideal for low-glare which helps reduce eye strain and improve safety in the workplace. LED troffers use a frosted lens to evenly diffuse light output, helping to reduce glare and distribute light evenly. The low-glare lens of LED panels also helps to eliminate dark spots and reduce the number of fixtures needed to cover an area.
For more assistance with your next lighting upgrade, call 1-800-624-4488 to speak to one of our lighting experts.