Chandelier LED Light Bulbs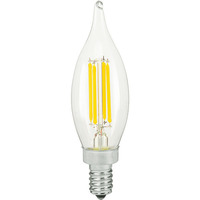 Natural Light - 350 Lumens - 4 Watt - 2700 Kelvin - LED Chandelier Bulb - 4.3 in. x 1.3 in.
40 Watt Equal - Incandescent Match - Clear - Candelabra Base - 90 CRI - 120 Volt - Bulbrite 776859
CRI: High CRI (90 and Up)
Height: 4.33 in.




Intro to LED Chandelier Bulbs
Combining the same classic look of chandelier lighting with LED technology, LED chandelier bulbs are a ideal for decorative lighting fixtures with either medium or candelabra base sockets. LED chandelier bulbs not only replicate the same brilliant glow of incandescent bulbs, but they require a fraction of the energy to operate. Lasting up to 50,000 hours, these bulbs will dependably reduce regular maintenance and compliment the elegance of your chandelier for years to come. Choose from bulbs with an amber, frosted, or clear finish as well as a variety of bulb shapes. Many of these LED bulbs are dimmable with a compatible LED dimmer. Be sure to check the dimmer compatibility PDF hyperlinked on each product page for your dimmer switch to ensure your new bulb dims properly. Using an incompatible dimmer usually causes humming or buzzing lights and shortens the life span of the bulb.
Chandelier Bulb Shapes and Sizes
Chandelier bulbs are known for their candle-like shape. Much like other light bulbs, their shape is identified in the form of a code, with the letter representing the specific shape and the number representing the bulb's width in eighths of an inch. The most common chandelier bulb shapes are B for bullet, C for candle or conical, CA for candle angular, and F for flame style. For example, a B11 is a bullet shaped bulb that in 11 eighths of an inch, or 1.375 inches in diameter. These LED chandelier bulbs have either a medium E26 base or a candelabra E12 base.
Color Temperature Options for LED Chandelier Bulbs
If you're looking to personalize your color temperature, our warm dim chandelier bulbs offer the capability of dimming from a warm white 2700K at full brightness to a very warm white 2200K color temperature when dimmed. Our selection of chandelier light bulbs is available in a wide range of Kelvin color temperatures including warmer whites designed to resemble the light of incandescent and halogen lamps. Cooler white lights proven to help reduce eyestrain are also available. The lower the Kelvin measurement the warmer and more yellow the light will appear. The higher the Kelvin, the cooler and bluer the light.
Need help finding the perfect LED light bulbs for your chandelier? Contact our team of lighting experts at 1-800-624-4488 for assistance.