LED Christmas Light Bulbs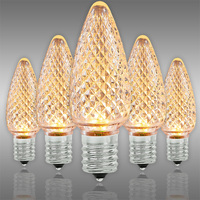 Warm White Deluxe - LED C9 - Christmas Light Replacement Bulbs - Faceted Finish
Intermediate Base - 50,000 Life Hours - 130 Volt - Pack of 25 - With VividCore
Family: VividCore
Wattage: 0.6 Watt
Amperage: 0.01 Amps
Height: 3.25 in.
Diameter: 1.1 in.
Sold only by the 25 Pack for $24.48
CMS-C9WWDLX
Warm White Deluxe - LED C9 - Christmas Light Replacement Bulbs - Smooth Finish
Intermediate Base - 50,000 Life Hours - 130 Volt - Pack of 25 - With ViviCore
Family: VividCore
Wattage: 0.5 Watt
Amperage: 0.01 Amps
Height: 3.25 in.
Diameter: 1.1 in.
Sold only by the 25 Pack for $24.48
CMS-C9WWDLXS
C7, C9 Christmas Lights and Christmas LED Globes
These LED Christmas light bulbs come in a variety of colors that you can use to make your holidays merry and bright. We even have color changing Christmas lights in both C7 and C9 sizes. When turned on, those lights cycle through red, blue, green, yellow, and purple. All of our LED Christmas lights are wet location rated so you can use them rain or shine. For snowy regions, LED Christmas bulbs are better equipped to handle freezing temperatures than incandescent bulbs, so you're in the right place.
Difference Between LED C7 and C9 Christmas Lights
C7 and C9 refer to the size of the socket on the Christmas light strings and spools. C7 Christmas lights have a candelabra E12 base which fits onto C7 strings and the larger C9 Christmas lights have an intermediate E17 base for C9 strings. If you're looking for replacement bulbs, knowing which size string you have is an important first step. If you're not sure, measure the diameter of the socket or the old bulb's base. The number after E is the diameter of the base in millimeters, so a C7 socket has a 12 mm opening and a C7 replacement bulb has a 12 mm diameter base. The same is true for the C9 replacement bulbs, but with a 17 mm base or 17 mm diameter opening on the socket.
Another difference is the wattage. C9 bulbs are brighter and use a little more electricity per bulb. For incandescent bulbs, there's about a 2 Watt difference between each C7 and C9 with C7 bulbs using around 5 Watts and C9 light bulbs using around 7 Watts depending on the brand. When you multiply this across a large display, 2 Watts per bulb can add up. It also means you need to be careful when connecting strings so that you don't exceed the maximum rating and burn out the bulbs. That's one benefit of LED Christmas lights. Both C7 and C9 light bulbs can use less than 1 Watt, drastically increasing the number of bulbs you can use on a single run. LED Christmas lights are also good for residential displays when you have one too many relatives over plugging in three too many electronics. LED Christmas lights are perfect for when you don't want a tripped breaker leaving your family in the dark.
Warm White Deluxe C7 and C9 LED Christmas Lights
When doing a Christmas lights tour of your neighborhood, you may have noticed not all white lights are created equal. Some houses pop with bright white lights while others give off a warm soft glow, not quite as warm as incandescent Christmas lights, but close. The brighter crisp white light is from cool white Christmas bulbs and the warmer soft light closer to incandescent Christmas lights is from warm white bulbs. Warm white deluxe Christmas lights are even warmer. These bulbs give off a very warm light that we recommend for your mantle, along the bannister and stair railing, indoor wreaths, and other places where you want to create a cozy firelight atmosphere indoors or out.