1-800-624-4488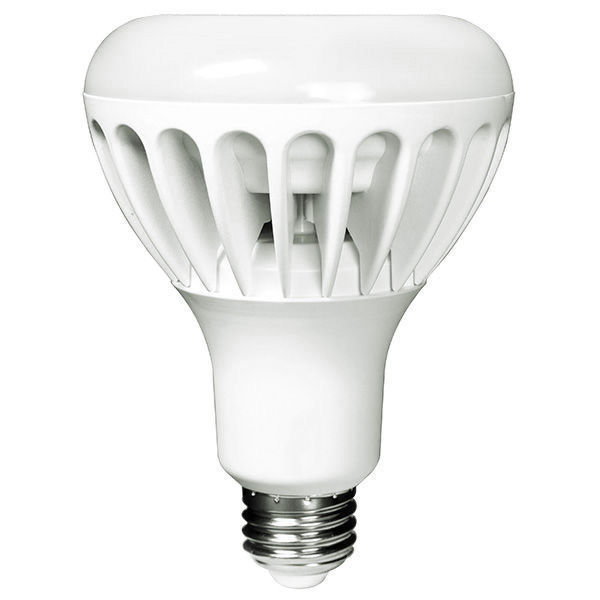 LED BR30 - 12 Watt - 700 Lumens
Warm White 2700 Kelvin - Dimmable - 120V - 5 Year Warranty - Kobi LED-R30-27
---
LED BR30 - 12 Watt - 700 Lumens
Warm White 2700 Kelvin - Dimmable - 120V - 5 Year Warranty - Kobi LED-R30-27
Description
The Kobi Electric LED-700-R30-27 (K2L9) dimmable R30 LED features high-quality lighting at an affordable price. Designed to replace a 60-watt incandescent bulb, the Kobi R30 LED is ideal for track or recessed lighting applications. The alluring 2700K, warm white color temperature will add efficiency and detail to any residential, retail, or hospitality space.
Emits zero UV radiation, excellent for sensitive display lighting
Can be used in damp locations where humidity is a factor
Lasts up to 25,000 hours, lowers maintenance costs
RoHS compliant, containing no lead or mercury
Smooth, uniform dimming
Specifications
Brand:
Kobi
MPN (Part No.):
LED-700-R30-27
UPC:
040232058288
Dimmable:
Yes
Energy Star:
No
Bulb Shape:
R30
Safety Rating:
UL Damp Location

CRI

:
81

Color Temperature

:
2700 Kelvin

Life Hours

:
25,000
Wattage

:
12 Watt
Incandescent Equal:
60 Watt

Lumens

:
700

Voltage

:
120
Base Type:
Medium (E26)
Height:
5.1 in.
Diameter:
3.7 in.

Warranty

:
5 Years
Case Quantity:
18
LED BR30 - 12 Watt - 700 Lumens - 60W Equal - Warm White 2700 Kelvin - Dimmable - 120V - 5 Year Warranty
is rated out of
5
by
62
.
Rated

4

out of

5
by
btpark
from
Bright, efficient lighting with some rough edges
I bought 6 of the Kobi Warm R30 LED bulbs to replace a set of 65W regular (not halogen) incandescent bulbs in the ceiling. These are the first LED bulbs that I have bought to replace normal 65W+ incandescent bulbs. Brightness: The Kobi bulbs are rated at 700 lumens using 12W, an efficiency of 58 lm/watt. They are noticeably brighter than my 65W incandescents. In fact, they are so bright, I have to dim them most of the time. There is a slight, 1/2 second delay when they are turned on, but it's short enough that it's no problem for me. Color Temperature and Balance: The color temperature is specified to be 2700K, but it looks higher to my eyes (bluer/cooler). I compared to some of my CFLs rated at 2700K, 3000K and 3500K, I would guess that the Kobi is somewhere between 3000K and 3500K. I would have preferred a slightly warmer color (i.e. lower color temperature). Overall, the color balance of the Kobis is better than any CFLs that I ever seen. I really dislike CFL lights for their ghastly yellow-greenish tinge, or inhumane, antiseptic white light. Dimming Circuitry: The dimming feature does not work very well with my dimmers. The bulbs go down to only about 50%. In between 50%-100%, the bulbs flicker wildly, as if they can't decide what the brightness should be. The net effect is that I really only have about 2, sometimes 3 dimming levels, 100%, 70% and about 50%. My dimming switches were manufactured in the last 2-3 years, but they were designed for incandescent lights. As I understand it, LED dimming circuitry can be sensitive to the type and quality of the dimming switch. The other problem with dimming --- this is probably a general problem across all LED lights --- is that the color temperature does not change as it becomes dimmer. When we dim our normal incandescent bulbs, they become warmer. The LED lights just become dimmer, not warmer. This means that I won't use them in the living room, for example. Bulb Lifetime: Each bulb costs $25, and has an estimated life-time of 30,000 hours. Let's assume that the LED industry stretches the truth like the CFL industry, so a more realistic lifetime is 15,000 hours. An R30 incandescent bulb costs about $2-2.50/each with an estimate lifetime of 2000 hours, which probably means 1000 hours. Over the lifetime, the incandescents will cost $30-38, compared to $25 for the Kobi. The Kobi wins. Energy Consumption: I put the Kobi bulbs in the hallway and staircase where they are used about 5 hours/day. The difference between the 65W bulb and the 12W Kobi is 53W. That means that I save about 8 kWh/month in electricity, or $1.20/month (at $0.15/kWh). The Kobi bulbs will pay for themselves in about 20 months, just in terms of electricity. If we factor in the far longer life of the LED bulbs, then the ROI is only about 16 months. A ROI of 1-2 years is longer than I would like, but these bulbs will last 8-15 years so it's not bad. Miscellaneous: I noticed that each bulb is fairly heavy, about a pound each I think. I almost dropped one while installing, because it was so much heavier than the feather-weight incandescent bulb. The aluminum fins help dissipate the heat, but I noticed very little heat from these bulbs. Even after many hours of operation, they feel only slightly warm to the touch. Conclusion: The Kobi bulbs are very bright, very well designed bulbs. I am impressed how much light they produce for so little power. I calculate that they will pay for themselves within 1-2 years. They have 2 shortcomings that prevent me from replacing all my R30 bulbs with these LEDs. I recommend these bulbs for areas of your house or apartment where these shortcomings won't bother you. (1) The color balance of the Kobis is better than the equivalent CFLs, but it is still not good enough compared to the holy grail of an R30 halogen bulb. I will use the Kobis in the hallway, but I won't use them in the living room. (2) The dimming circuit does not work very well. A different dimming switch may fix the problem, but a specially designed LED/CFL switch (e.g. a Lutron CFL/LED dimming switch) will set me back $28. I will probably wait until the LED bulbs drop in price a little before installing new dimmers. Final Thoughts: The energy efficiency of the Kobi LED bulbs is about 60 lm/watt. The industry has room to improve. I am now seeing LED bulbs at 100 lm/watt. The theoretical maximum of LED bulbs is 250-300 lm/watt. They will get better with the color temperature and balance. I think LED bulbs will completely replace CFL bulbs in a few years, and I am looking forward to that.
Date published: 2012-03-03
Rated

5

out of

5
by
WDDD
from
bright, warm color that looks like incandescent
I have dozens of can ceiling lights and I'm replacing them with these PAR 30 LED's. I've tried lots of 1000Bulbs.com's different choices in Par 38's (expensive) and Par30's (blue light). These are just right. I've replaced a ton of PAR38 75 and 90 watt halogens with these and they seem equally as bright and warm. I did receive one bulb (out of 30 or 40 that I've ordered (crazy!) and it didn't work. I called 1000Bulbs and they didn't blink. They sent me a replacement without having me return the dead bulb...very nice touch! And on the subject of 1000Bulbs.com their shipping is slower than Amazon; sometimes two weeks. And they use those pesky foam peanuts...ugh what a pain!
Date published: 2012-06-06
Rated

4

out of

5
by
Erik
from
Uasable in some situations, but not ideal
I compared this Kobi LED to standard incandescent bulbs and a name-brand warm white CFL flood for my hallway downlights. You can't argue with the durability of the plastic diffuser and the low energy usage. It provides plenty of light. There is no audible buzz or flickering in the LED. My goal was to find some LED floods that could blend in with my incandescent bulbs, so that I could replace dead bulbs with LEDs slowly over the coming year. Unfortunately, I won't be able to use this Kobi bulb for that purpose. The color is specified as 2700K, but is actually a bit whiter and doesn't quite match the incandescents. People who are not picky about color temperature differences probably won't mind, since the color difference is not large (there is no blue in the light, just a slightly whiter yellow). The other problem is that they take about half a second to come on. This wouldn't be a problem if you replace all bulbs in an area at once, but makes for a strange look when you mix these LEDs with instant-on incandescents. The warm CFLs I tested have a near perfect match on the color, but start out so dim on cold days that they are not usable for areas where you want instant light. Other LED bulbs I've tested are truly instant-on. I've moved this bulb to a smaller area where it doesn't have to blend in with existing lights and it works well for that, especially in areas where you don't want to change bulbs often. I did not test the dimming feature.
Date published: 2011-12-02
Rated

5

out of

5
by
reward
from
New construction on custom homes
we have installed over 100 of these bulbs with only 1 failure to date
Date published: 2015-06-01
Rated

5

out of

5
by
PaulK
from
Excellent angle of light
Every LED R30 flood I have bought before has been a disaster. They all have too narrow a beam width and so they leave dark spots between the cans. This one has wide spread of beam so that it matches the CFL and incandescent R30s it replaces. They come on reasonably fast although if you have dimmer without an on/off switch, they flicker when coming on. They do not dim all that well, but no worse than CFLs. Nothing even close to an incandescent, which dims down to nightlight brightness. I do not know if there is a different dimmer switch which does better but I have modern ones. I highly recommend these if you need a real floodlight with very good brightness. These are whiter than the color temp suggests, at least compared to CFLs with the same temp. They also hurt your eyes to look right at for some reason, but the light cast is very nice and very well distributed. I will put these into our store once the price comes down some more as I think they do a great job on fabric too.
Date published: 2012-08-25
Rated

4

out of

5
by
DaveG
from
Very good replacement for incandescent floods
I have replaced almost all of my recessed 65watt floods with these (over 20), plus the CFL reflectors in my kitchen that I hated for the warm up time and color of the light. These LEDS are the closest I have come to incandescent so far and the price can't be beat. They seem to be quite a bit brighter than the incandescents they replaced, but it might be that the light is whiter, I'm not quite sure. The light is much better quality than the CFL floods by a long shot. The spread from the bulbs is equivalent to incandescent floods. They work with the electronic dimmers I already had installed, but because the light doesn't yellow as it dims like an incandescent would, it doesn't appear to be as dim. They're fine for my application, but if you are using them where you want the ambience of a dimmed incandescent, you won't get quite the same effect with these. They'll dim to about 10% before turning off completely. There is a slight lag before they turn on, but it is less than a second. It is noticeable, however. The only issue I have had is that I had one defective non-working bulb in both of my orders. That's about 1 in 15 defective, which I think is high for what these cost. The point is, be sure to test every bulb when they arrive if you plan to store them to use later.
Date published: 2012-03-07
Rated

4

out of

5
by
Paul2011
from
Recommended 65w equivalent replacement
I have installed two of these Kobi bulbs to replace 65w incandescent floods in kitchen ceiling recessed cans. I will be ordering more to complete the conversion now that I'm satisfied these bulbs are suitable for this use. I can second some comments of an earlier reviewer. First, the bulbs are not instant on. The turn-on lag is only about half a second, or less, at full illumination, but the lag does become longer if the switch is already dimmed to a lower power when you turn it on. I don't consider the lag a significant issue, but it can be more noticeable if you have mixed types of bulbs installed on one circuit in a room. That can create the effect of different lights coming up in sequence. It is best if all lights on a circuit are upgraded to one type of bulb. That defeats the approach of incrementally replacing bulbs with new LEDs as the old ones burn out, however. This time lag is consistent with what I have encountered with two other brands of LEDs. As far as the light color, or temperature, I'm satisfied. As noted by another reviewer, the light is whiter than the incandescents being replaced. I believe most people will find the 2700K lights as being most consistent with the light they are used to from incandescents. I noticed no buzzing or any noise from the bulbs. They don't dim far down like incandescents, but that is not a problem for my use. I haven't tried CFLs for similar room lighting applications, so I can't make any comparisons in that regard. As far as brightness, I'm completely pleased. I tried another brand of LED 65w replacement bulb in the kitchen and found that one, at 800 lumens, to be far brighter than the 65w bulbs it replaced, and brighter than desired. I think the 700 lumen of these Kobis is closer in brightness to the 65w incandescents being replaced and just what is desired. Overall, I'm pleased and, as I said, I'm ordering some more. I'm also going to try some Kobi A19 bulbs for some other uses.
Date published: 2011-12-22
Rated

5

out of

5
by
bill16
from
Exeleent choice when converting from incandescent or looking for a new LED
I wanted to convert from my incandescent to LED and after reviewing many options I chose this bulb. I wanted to brighten my kitchen and went from 620 lumens to this bulb which advertised 700 lumens. Wow, this is a great bulb. It is providing the kind of light I was looking for. I am very impressed, works with my old dimmer, and really makes my kitchen light up with perfect lighting. You will not be upset with this choice. Also, their customer service was excellent, very knowledgeable. Product arrive in 3 days, standard shipping.
Date published: 2015-06-06