1-800-624-4488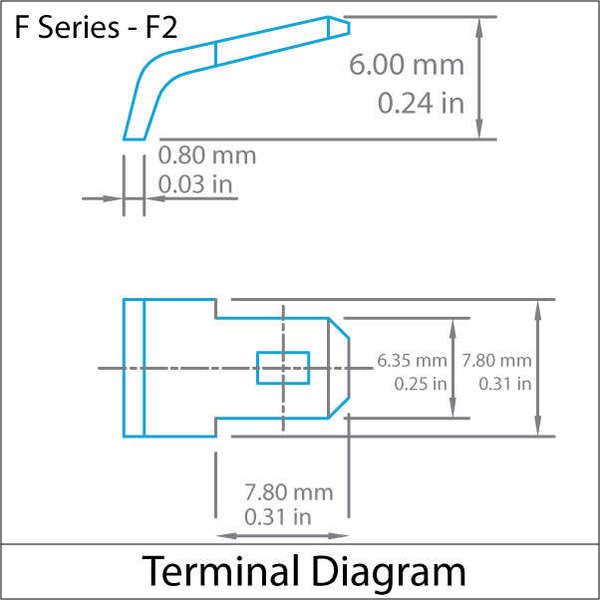 12 Volt - 10 Ah - UB12100-S - AGM Battery
F2 Terminal - Sealed AGM - UPG D5719
---
12 Volt - 10 Ah - UB12100-S - AGM Battery
F2 Terminal - Sealed AGM - UPG D5719
Description
Premium quality absorbed glass mat technology (AGM) is ideal for ATVs, motorcycles, personal watercraft, and snowmobiles. The Adventure Power AGM Battery was designed for more than performance; it was designed for the enthusiast with more cranking power than our competitors' same sized battery. Adventure Power batteries are completely spillproof and leakproof. Frequent replacement and high maintenance are over! A one year warranty is also included for your peace of mind. The key to this technology is the porous microfiber separators, which completely absorb and trap electrolyte. Molded top and side connection terminals provide versatility, increased strength and durability. The Adventure Power AGM Battery provides the most power and best value in the industry. Primary Applications: ATV, Emergency Lighting, Medical Equipment, Medical Mobility, Scooter, UPS/Surge Protector
Specifications
Brand:
Universal Power Group
MPN (Part No.):
D5719
Safety Rating:
UL
Color:
Black

Voltage

:
12
Capacity:
10 Ah
Chemistry:
Sealed Lead Acid
| | |
| --- | --- |
| Terminal: | F2 |
| Type: | AGM |
| Length: | 5.94 in. |
| Height: | 4.65 in. |
| Width: | 2.56 in. |
| Weight: | 7.1 lb. |
Compatibility
Access Battery: MLA99726, SLA1220PC, SLA1222, SLA1222GS
Ademco / ADI: 102312, PS1220
Air Shields Medical: 0 INFANT WARM WEIGH SCAL, 70 VOLUMETRIC INFUSION PU, ARM WEIGHT INFANT SCALE N, LUMETRIC INFUSION PUMP AS, MWARM WEIGHT INFANT SCA, SH531151912
Alaris Medical: KEOFEED 500 INFUSION PUMP, 000 KEOFEED INFUSION PUM, 500 KEOFEED INFUSION PUMP, KEOFEED 3000 INFUSION PUM
Albury Instruments: TRACE PORTABLE DEFIBRILLA, GUARD PORTABLE DEFIBRIL, NP1912, UARD 80 PORTABLE DEFIBRIL
Alexander: B825, MB5515, NP2312, G1219, G1220, GB1219
Alton-Tol: 5A PUMP, 5C PUMP, AS2 PUMP
American Hospital Supply: N75 PUMP
American Scale: 800 SCALE
American Seave Corporation: 800
Amsco: 503902, 503902 ARTHROTONE, 503916 ARTHROTONE
Aspen Labs: 1000, 2000, 1000 ATS, 1000 ATS TOURNIQUET, 1500 ATS, 1500 ATS TOURNIQUET, 2000 TOURNIQUET, ATS 1000, ATS 1000 TOURNIQUET, ATS 1500, ATS 1500 TOURNIQUET, CF12V1.5
AVCO: 400470
AVI: 400, 100 INF PUMP, 110 INF PUMP, 200 INF PUMP, 200A INF PUMP, 210 INF PUMP, 270 INF PUMP, 285 INF PUMP, 285 MICRO PUMP, 300 INF PUMP, 400 PUMP, 400A PUMP, 480 PUMP, 501 PUMP, 840 PUMP, 880 PUMP, MICRO285 PUMP, VOLUMETRIC PUMP, YBACK GUARDIAN INFUSION P
B&B: BP2.3-12
Batteries Plus: CLTXPA1222F, XP1222
Battery-Biz: B622
Baxter Healthcare: 80000101, 201 FLOGARD INFUSION PUM, 5A INFUSION PUMP, 5B INFUSION PUMP, 5C INFUSION PUMP, 5D INFUSION PUMP, 6201 FLOGUARD, AS 5A AUTO SYRINGE, AS 5B AUTO SYRINGE, AS 5C AUTO SYRINGE, AS 5D AUTO SYRINGE, AS2, AS2 AUTO SYRINGE, AS2 INFUSION PUMP, AS5A, AS5B, AS5C, AS5D, AS70, AS70 AUTO SYRINGE, AS70 INFUSION PUMP, AUTO SYRINGE, INFUSION PUMP 5A, INFUSION PUMP 5C, INFUSION PUMP AS2, INFUSION PUMP AS70, LOGARD 6201 INFUSION PUM
Biotek Instruments: SP02 SIMULATOR
Birtcher: 320 DEFIBRILLATOR, DEFIBRILLATOR 320
Brentwood Instruments: 99210005, 320 DEFIB, 501AX SINGLE CHANNEL EKG, DEF320 DEFIBRILLATOR, EZ SCOPE, EZ SCOPE SINGLE CHANNEL, LS14 MONITOR, LS24 MONITOR, LS285 DEFIB, LS5 ECG MONITOR
Clary Corporation: NP1912, PC1240, SLIMLINE PC1240, UPS1400VA1G, UPS1500VA1G, UPSI1240IG
Clockmate Batteries: PSLA1201.9
Colin Medical: 00 BLOOD PRESSURE MONITO, 8800 PRESSMATE, 8800C PRESSMATE, PRESSMATE MONITOR
Corometrics Medical System 501 Apnea/Eeg Monitor Sla4-12 1 12V 5 Ah Sla: 555 MONITOR, 555 NIBP, MONITOR 555, NIBP 555
Country Home Products: LAWN VAC
CSB/Prism: EVX-1222, GH1222, GP1220, GP1222
Dallas Instruments: 4100 TAPE SYSTEM
Data Shield: SS700
Datascope: 997000262, 3000 MONITOR, 3 ACCUTOR BP MONITOR, 4 ACCUTOR, 4 ACCUTOR BP MONITOR, ACCUSTAT PULSE OXIMETER, MONITOR 3000
Digital Telemetry: TELEMETRY QDTR20, TELEMETRY QDTT20
Dukane: CONTROL UNIT
Dyna Cell: WP1.912
Eagle Pitcher: CF12V1.5, CFM12V2
ELS: EDS1220
Elsar: 144, 16240, 23060
Fire Control Instruments: 12V1.9AH, B19R
Fukuda Denshi: 1219, 501AX ECG ATRIX CADISUNG, 501 AX CARDISUNG, CARDISUNG 501AX
General Medical: 800 NOVASTIM, NOVASTIM 800
GS Portalc: PE12V1.9, PE12V2.2F1, PWL12V2, PX12026, PXL12023
Henley International: 434 SONO PULSE, 464 SONO PULSE, 64 SONO PULSE, ULTRASOUND
Hitachi: HP2.2-12, HP2.6-12
Hoffman Laroche: 7501 DEFIBRILLATOR, DEFIBRILLATOR 7501
Interactive Technologies Inc: 34008, CARETAKER SERIES, PE1912R
Intermec/Norand: NT121, NT121XL, PS1220, PS1220L
Interstate Batteries: BSL1015
Invivo Research Inc.: 0 BLOOD PRESSURE MON OM, 1400 OMEGA BP MONITOR, 1445 OMEGA NIBP/SAO2, 4500 MRI, 4500 PLUS MRI, 4500 SCOUT MINI O2 MONITOR, 500 OMEGA, HB03, MRI 4500, MRI 4500 PLUS, OMEGA 1400 BP MONITOR, OMEGA 1445 BP MONITOR, OMEGA 1445 NIBP/SAO2
Ivac Medical Systems: 3000, 302787, 500 KEOFEED
Johnson Controls: GC1215, GC1219, JC1219, JC1219, JC1222
Jolt Batteries: SA1222
Kidde Inc.: 1002910A
Kong Long: WP1.9-12
Kontron: 7141 MONITOR, 7143 RECORDER, 7501 DEFIB
Leoch: DJW12-2.3
Life Science: LS14 MONITOR, LS24 MONITOR, LS285 DEFIBRILLATOR
Lintronics: MX12020, NP2312
Lumiscope: ASTROGRAPH III
Medical Data: 2000 PACE PAC PACEMAKER, 2000 DATASIM SIMULATOR, 6000 DATASIM SIMULATOR, 6000 PACE PAC PACEMAKER, 6000 SIMULATOR, DATASIM 2000 SIMULATOR, DATASIM 6000 SIMULATOR, PACE PAC PACEMAKER, PACE PAC PACEMAKER 2000, PACE PAC PACEMAKER 6000
Medical Research Labs: 900015, DEFIBRILLATR ST500, NEURO PROBE SYSTEM 200, ORTA PAK DEFIB/MON 500BP, ORTA PAK DEFIB/MON 501BP, PORTA PAK DEFIB, PORTA PAK DEFIB/MON 500, PORTA PAK DEFIB/MON 500AT, PORTA PAK DEFIB/MON 501, PORTA PAK MONITOR, PORTAPAK 500, PORTAPAK 500PBS, PORTAPAK 501, PORTAPAK 501PBS, PROBE SYSTEM 3, ST500, ST500 DEFIBRILLATR, TAPAK MONITOR/DEFIBRILLA, 500, 00BPS PORTA PAK DEFIB/MO, 01BPS PORTA PAK DEFIB/MO, 200 NEURO PROBE SYSTEM, 200NP NEURO PROBE, 3 PROBE SYSTEM, 300NP NEURO PROBE, 500 PORTA PAK DEFIB/MON, 500AT PORTA PAK DEFIB/MON, 500PBS PORTAPAK, 501 PORTA PAK DEFIB/MON, 50501 DEFIBRILLATR, 50501 PORTA PAK
Medical Systems: EKG, SINGLE CHANNEL EKG
Medimex: PD1 DEFIBRILLATOR, LS285
Micro Medical Devices: 25 TRANSPACER
MK Battery: ES1.9-12
National Power Corporation: GT011T5
Nellcor Puritan-Bennett: N185 PULSE OXIMETER, PULSE OXIMETER N185
Newark: FNC1219, NP2312, 84F1012, 84F1013
Nihon Kohden: 5101 CARDIOFAX ECG, 5105 CARDIOFAX ECG, 5151 CARDIOFAX ECG, CARDIOFAX ECG 5101, CARDIOFAX ECG 5105, CARDIOFAX ECG 5151, ECG 5101 CARDIOFAX, ECG 5105 CARDIOFAX, ECG5151 CARDIOFAX, NIHON KOHDEN SC513E
Nivec: RODYNAMIC FLOMETER NV36, URODYNAMIC FLOMETR, V3658 URODYNAMIC FLOMETE
North American Drager: 782125
North Supply: 782364, 840A PULSE OXIMETER, COSMOS ETCO2, ETCO2 COSMOS, M7111, OXYPLEATH 520, OXYPLEATH 520A, 40 TRANSCUT O2/C02 MONITO, 505 PULSE OXIMETER, 515 PULSE OXIMETER, 515A PULSE OXIMETER, 520 OXYPLEATH, 520A OXYPLEATH, 800 MONITORS, 800 PULSE OXIMETER, 840 MONITORS, 840 PULSE OXIMETER, 840A MONITORS, PTCO2 MONITOR, PTO2 MONITOR, PULSE OXIMETER 515A, PULSE OXIMETER 800, PULSE OXIMETER 840, SINGLE CHANNEL EKG
Ohio Medical Products: 3700 BTI BIOX OXIMETER, 3710 OXIMETER, 3740 BIOX IVA OXIMETER, 3740 PULSE OXIMETER, 3760 BIOX IVA OXIMETER, 3760 PULSE OXIMETER, 60P PULSE OXIMETER BIOX IV, BIOX IVA 3740 OXIMETER, BIOX IVA 3760 OXIMETER, BTI BIOX 3700 OXIMETER, OXIMETER 3710, PULSE OXIMETER, PULSE OXIMETER 3740, PULSE OXIMETER 3760, PULSE OXIMETER 3760P
Omega: 1400 BP/CUFF
Pacetronics: 1 NI PACER, 1 PACER, NI PACER I
Panasonic: LC-R122R2P
Penlon/Ferraris Medical: AM1000, AM1000 ANESTHESIA MACHINE
Power Battery: PM122
Power Equipment: LAWN VAC
Power Patrol: SLA1015
Power Star Batteries: GB1219
Powersonic: PS-1220
Powertron: L5034, LCR122R2PU, PE1912RF1
Protection One: BT0012N, BT0014N
Quantum: ES1912
R & D Batteries: 5298, 5386, 5515
Roman Labs: .2-12 1 12V 2.3 Ah SLA
Schiller America: AT6 PORTABLE EKG
Siemens: 300 SERVO VENTILATOR, SERVO VENTILATOR 300
Sonnenschien: A212/1.8S, A212/2S, A512/2.0S
Spacelabs Medical: 1 PC DISPLAY, 2 PC DISPLAY, 2446 SYSTEMS RECORDER, PC DISPLAY 1, PC DISPLAY 2, PC SYSTEM PRINTER, SYSTEMS RECORDER 2446
Squibb Vitatek: 2446 SYSTEM RECORD
Sscor: AA750 PATIENT STIMULATOR, PATIENT STIMULATOR READY, READY PACE
Storage BatterySystems: S1220
Technacell: EP1218, EP1219, EP121926, EP121936, TC1219
Telesys: DB1223
Tempest: TR1912
Tenzcare: GUARDIAN INFUSION
Trio Lighting: TL930218, TL930219
Tripplite: IMAX UPS 280, TLRBC41
Union Battery: MX12019, PW1202
Universal Battery: UB1222
UPG: UB1222
Volcano: KB1220
Yuasa: NP1.9-12, NP2.3-12, NPH2.3-12
Zeus: PC2.2-12F1,
12 Volt - 10 Ah - F2 Terminal - UB12100-S - AGM Battery - UPG D5719
is rated out of
5
by
2
.
Rated

5

out of

5
by
Evan
from
Worked fine
I used two of these batteries in my electric lawnmower and they worked fine, just as good as the last two sets of batteries I bought. The real test is how long they will last, which I do not know. They were the best price I could find.
Date published: 2011-06-13
Rated

4

out of

5
by
Oldman
from
Great bargain
I bought 3 of these for my electric vehicle and they are working fine. I shopped many stores and websites and you can't beat the price anywhere.
Date published: 2011-06-07