1-800-624-4488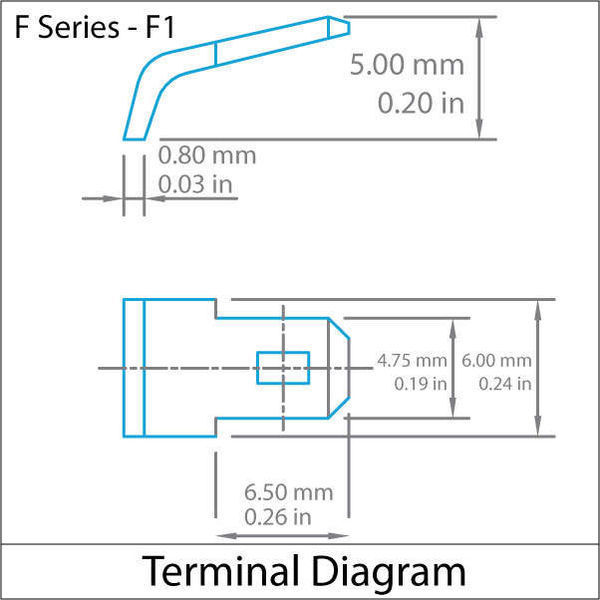 12 Volt - 8 Ah - UB1280 - AGM Battery
F1 Terminal - Sealed AGM - UPG D5743
---
12 Volt - 8 Ah - UB1280 - AGM Battery
F1 Terminal - Sealed AGM - UPG D5743
Description
Premium quality 12 Volt 8 Ah Capacity absorbed glass mat battery technology (AGM) is ideal for ATVs, motorcycles, personal watercraft, and snowmobiles. Adventure Power batteries are completely spillproof and leakproof. Frequent replacement and high maintenance are over! A one year warranty is also included for your peace of mind. The key to this technology is the porous microfiber separators, which completely absorb and trap electrolyte. Molded top and side connection terminals provide versatility, increased strength and durability. Primary Applications: Emergency Lighting, Gate Opener, Security, Solar, UPS/Surge Protector
Specifications
Brand:
Universal Power Group
MPN (Part No.):
D5743

Order Code

:
UB1280
Safety Rating:
UL
Color:
Black

Voltage

:
12
Capacity:
8 Ah

CCA Rating

:
115
Chemistry:
Sealed Lead Acid

Start Temp. (Min)

:
5 Deg. F
Start Temp. (Max)

:
104 Deg. F
Shelf Life:
6 Months
Terminal:
F1
Type:
AGM
Length:
5.94 in.
Height:
3.94 in.
Width:
2.56 in.
Weight:
4.96 lb.

Warranty

:
1 Year
Case Quantity:
8
Compatibility
ACCESS BATTERY: MLA1721I, SLA1265, SLA1272, SLAA80108G
ACME SECURITY: SYSTEMS 621, SYSTEMS 622, SYSTEMS 623, SYSTEMS 624, SYSTEMS 625, SYSTEMS 626, SYSTEMS RB12V6, SYSTEMS SDC602
ADEMCO / ADI: 4120EC, 4140XMP, 4140XMPT, PWPS1270, 5140XM
ADT SECURITY: 899953
AEQUITRON: CR911D MUSCLE STIMULATO, MCR9110
AIR SHIELDS MEDICAL: 3B ANESTHESIA UNIT, NARCOMED ANESTHESIA UN, A NARCOMED ANESTHESIA UN
ALARM LOCK: RBAT6
ALEXANDER: MB5549
ALEXANDER: GB1245, GB1270, PS1270
ALPHA TECHNOLOGY: ALI 1000, ALI 1250, ALI 2400, ALI 600, ALI 800
ALTON-TOL: 5A000285000, 8 SUPER RECORDER, DASH 1, DASH 2, DASH 4, MARK 2, SUPER 8 RECORDER, Z1000 RECORDER
ALTON-TOL: 2 MARK; MARK 2
AMERICAN HOSPITAL SUPPLY: 9510 COMPUTER, 9510 MONITOR, 9510A MONITOR, COM1 CARDIAC OUTPUT
APC: RBC9, SU700RM, SU700RMNET
ARITECH: BS326
ARJO: 29181 CHAIR, CHAIR LIFT
ARROW INTERNATIONAL: 7300, 320319, 7300 CARDIAC, 7350 CARDIAC, 7350 H INFANT MONITOR, ARDIAC OUTPUT 7300, CARDIAC 7300, CARDIAC 7350, CARDIAC OUTPUT 7350
ARTROMICK INTERNATIONAL: MEDICINE CART
ASTRO-MED INC.: ASTROMED RECORDER DASH, ASTROMED RECORDER MARK, ASTROMED SUPER RECORDE, Z 1000 GRAPHIC RECORDER
AT&T: 515, 8000, 500VA, 8000 SERIES, AT-500
B&B: BP7-12
BARD HEALTH SYSTEMS: POWERPAK SYSTEM, PSH4305 POWER PACK SYSTE, PSH4322 POWER PACK SYSTE
BATTERIES PLUS: CLTXPAG12F, XP1272
BATTERY-BIZ: B610
BCI INTERNATIONAL: 58200A VITAL SIGNS MONITOR, 6100 MONITOR, 67100 PRINTER, 700 MONITOR, BC1270, VITAL SIGNS MONITOR
BIO-MEDICUS A: 540 BLOOD PUMP
BLUE GROTTO: DIVING LIGHT, ES7212, LCR12V7, NP712, PS1270
BRENTWOOD INSTRUMENTS: 261 VPD DEFIBRILLATOR, VPD 261 DEFIBRILLATOR
BRIGGS & STRATTON: 497395, WHISPER LITE
BROOKS EQUIPMENT: BAT127
BURKE SCOOTERS: BIG BOY BED
CAMBELL HAUSER: CC2200
CARD KEY: D600
CASH REGISTER: 203031 NO LEADS
CASH REGISTER: BTP810
CHLORIDE: 12V7.0AH
CLARY CORPORATION: UPS11251GR, UPS1125K1G, UPS1125K1GSBS, UPS1125K1GSBSR, UPS115K1G, UPS115K1GR, UPS115K1GSBS, UPS115K1GSBSR, UPS11K1G, UPS11K1GR, UPS11K1GSBSR, UPS125K1G, UPS1400VA1GSL, UPS1800VA1G, UPS1800VA1GR, UPS1800VA1GSBS, UPS1800VA1GSBSR, UPS1800VA1GSL, UPS800VA1GSBS
CLOCKMATE BATTERIES: PSLA1207
CODMAN & SHURLEFF: 263001, 500 CHART RECORDER, 500 RECORDER, CHART RECORDER 500
COUNTRY HOME PRODUCTS: 46LAWN MOWER, BRUSH MOWER, FIELD
CRITIKON: 7300, 7350, 320319, 00 CARDIAC OUTPUT COMPUT, 50 CARDIAC OUTPUT COMPUT, 7300 CARDIAC, 7350 CARDIAC, CARDIAC 7300, CARDIAC 7350
CSB/Prism: EVX-1270, GH1270, GP1270, GP1272, HR1270
CUTTER LABS: 4088, 4000 INFUSION PUMP
CYBER POWER: CPS500SL, CPS650SL, OFFICEPOWER CPS700AVR, OFFICEPOWER CPS900AVR
DALLANS: 095 MONITOR/DEFIBRILLATO
DALLAS INSTRUMENTS: 744 TAPE, F44 TAPE SYSTEM, WWGS1245
DANTONA LEAD: LEAD127
DITTMAR: 741314 IV LIFTER, 741314 IV POWERLIFTER, 742102 WEIGHMOBILE, IV POWERLIFTER 741314
DOUGLAS GUARDIAN: DG12-7F
DTS: 12V 6.5AH, 12V 6.7 AMP NO LEADS, 400 1ea AAPA5001 & 1ea, 440 1ea AAPA5001 & 1ea, 500 1ea AAPA5001 & 1ea
DUAL LITE: 12621, DL712V, DL7S12V
DYNA CELL: WP6.512, WP712
DYONICS: 40, 85, 40 ORTHOSCOPIC SURG, 60 ORTHOSCOPIC SURG, 85 ORTHOSCOPIC SURG, ORTHOSCOPIC 85, ORTHOSCOPIC R60, R40, R60 ORTHOSCOPIC SURGICAL, R85, SURGICAL PWR UNITS
EAGLE PITCHER: CF12V5.5, CF12V5L, CF12V6, CF-12V7.2, CF12V72, CFM12V65, CFM12V7, HE12V127, HE12V77
EASY OPTIONS: 400VA
EDWARDS: 1526, 1212B065, 12V6.5, 1799118ST, 5759B060, ELITE, JC1260
EFI: LanGuard 675
ELK BATTERIES: ELK1270
ELS: EDS1270
ELSAR: 148, 150, 434, 2318, 16244, 16246, 16250, 23064
EMERSON: AP166, ACCUPOWER 30, AP161, AU1000RE, AU750RE, UPS200, AU1500, AU1500RE, AU2100RE, AU750, UPS1250, UPS600
EPD: Grizzly 300VRS, Grizzly 500, Grizzly 500VRS
EPE TECHNOLOGIES: Technologies Integrity IS-1122/11 TS
ERC: 8101265
EXELL BATTERY: MP09371, PS1265, PS1270, UPS600, UPS600 PLUS
EXIDE: FX2002
FAIRSTONE TECHNOLOGIES: B0407, P1250, P1250X, P250, P250F, P500, P500F, P750
FENNEX BATTERIES: FX2002,
FENTON TECHNOLOGIES: PowerOn H010K, PowerOn H3500, PowerOn H4000, PowerOn H5500, PowerOn H6000, PowerOn H8000, PowerPal L425, PowerPure M1000, PowerPure M2000, PowerPure M3000
FERNO-ILLE: 1600 LIFT CHAIR, 3000 LIFT CHAIR
FIRE CONTROL INSTRUMENTS: 1002311A, B7R
FISHER: 212Z ISOTEMP FREEZER
GAMBRO ENGSTROM: 9651 SCALE KEBO, SCALE 9651 KEBO
GAMEWELL: 69113
GARDEN WAY: 55295
GENERAL POWER: GPS5006
GENERAL SCANNING: R15 PORTABLE RECORDER
GLOBAL TECHNOLOGY SYSTEM: GTSRBC12, GTSRBC2, GTSRBC5, GTSRBC8, GTSRBC9
GOULD BATTERIES: 47786101000, 1405 PHYSIOLOGICAL MONITOR, BLOOD FLOW MONITOR, P2004 BLOOD FLOW MONITOR, PB1260, PHYSIOLOGICAL MONITOR, SP1405, SP2009 RECORDER
GS PORTALC: PE12V7, PE12V7.2F1, PWL12V7, PXL12072
HEWLETT PACKARD: M1700A ECG PAGEWRITER, M1701AXL PAGEWRITER EKG, M1702A PAGEWRITER EKG, POWERWISE L900
HITACHI: HP7-12
HOFFMAN LAROCHE: 205, 143 MICROMONITOR ECG MO, 105 MONITOR, 108 MONITOR, 141 MICROMONITOR ECG MO, 40 MICROGAS BLOODGAS MO, CROGAS 7640 BLOODGAS MO, MICROMONITOR 7143 ECG MO, MONITOR 105 S, MONITOR 108, MONITOR 205
HOMELITE: HM20P5E
HUBBELL: PE612
IMEX MEDICAL SYSTEMS: 7000 PVL
INFRASONICS: 010 ADULT STAR VENTILATOR, 500 ADULT STAR VENTILATOR
INTERSTATE BATTERIES: BSL1079, PC1270
INVIVO RESEARCH INC.: A BLOOD PRESSURE MONITO, 0 OMEGA 500 BLOOD PRESSU, 0 OMEGA 5000 BLOOD PRESS, A BLOOD PRESSURE MONITO, EGA 500 BLOOD PRESSURE 1, EGA 5000 BLOOD PRESSURE, MEGA BLOOD PRESSURE MO, OMEGA 500
JOHNSON CONTROLS: GC1245, GC1260, GC12601, JC1260, JC1260
JOLT BATTERIES: SA1272
KELVINATOR SCIENTIFIC: AUDIO ALARM
KIDDE INC.: 1002310A
KONG LONG: WP7-12
KONTRON: 4615, 105 MONITOR, 142 ECG MICROGAS MONITO, 2 MICROMONITOR ECG MONIT, 205 MONITOR, 7640 BLOODGAS MON, 7640 MICROGAS, COMBO SENSONR, MICROGAS 7640, ROMONITOR 7142 ECG MONIT
LAERDAL: 95 HEART AID, HEART AID 95, HEARTSTART TRAINING BAT, RTSTART 1000 TRAINING BATT
LEADMAN: UPS300, UPS500
LEOCH: DJW12-7.2
LIEBERT CO: AP166, GXT SERIES
LIFE SCIENCE: LS5 MONITOR, VPD261 DEFIBRILLATOR
LIGHT ALARMS: 8XJBRA, C18A6
LINTRONICS: LCR12V6.5P, MX12070, NP712
MARQUETTE: 32132, 421559, DC612
MEDASONICS INC.: MEDACORD DOPPLER
MEDIMEX: 500E MVP PORT VENTILATOR
MEDTRONIC (BIO-MEDICUS): 540 BLOOD PUMP, 200 BIOPACK
MENNON MEDICAL: 936050010, 36S MONITOR/DEFIBRILLATO, 742 PORTABLE MONITOR, 865 MONITOR/DEFIBRILLATOR, 936 DEFIB, 936 MONITOR, 936 MONITOR/DEFIBRILLATOR, 936S DEFIB, 936S MONITOR, 965 MONITOR/DEFIBRILLATOR, CARDIAC OUTPUT MON, MONITOR/DEFIBRILLATOR 865, MONITOR/DEFIBRILLATOR 936, MONITOR/DEFIBRILLATOR 965, PORTABLE MONITOR 700, PORTABLE MONITOR 742, 700 PORTABLE MONITOR
MERICH: 350, 450, 450C, 850C, M1200, PE6512R, UPS400
MGE BATTERIES: ES8+, ESV13
MICROUPS: 30, 50
MINUTEMAN: E1500, E15001, E750, E7501, EBP1, EBP3, MBK320, MBK3201, MBK520, MBK5201, MCP, MCP 10000, MCP 1000RM E, MCP 2000iRM E, MCP 2000RM E, MCP 3000iRM E, MCP 3000RM E, MCP 6001, MCP 700iRM E, MCP BP1000, MCP BP1000RM, MCP BP2000, MCP BP2000RM, MCP BP3000, MCP BP3000RM, MCP BP5000, MCP BP7000, MCP1000 E, MCP1000i E, MCP1000iRM E, MCP2000 E, MCP2000i E, MCP3000 E, MCP3000i E, MCP5000i E, MCP6000, MCP700 E, MCP7000i E, MCP700i E, MCP700RM E, PRO 320, PRO 3201, PRO 520, PRO 5201, XRT600
MK BATTERY: ES7-12
MOOSE: B1260
MOTOROLA: LCR12V72PL
NAPCO ALARMS: RBAT6
NATIONAL BATTERY: CO68D
NATIONAL POWER CORPORATION: GT026P4
NEWARK: 87F637, 96F990, JC1265, NP712, FNC1270, FNC1270A
NORTH AMERICAN DRAGER: 782073, ANESTHESIA MACHINE 3, ANESTHESIA MACHINE 3B S, B ANESTHESIA MACHINE, 2A ANESTHESIA MACHINE, 2B ANESTHESIA MACHINE, 3 ANESTHESIA MACHINE, 3B ANESTHESIA MACHINE, ANESTHESIA MACHINE 2A, ANESTHESIA MACHINE 2B, ANESTHESIA MACHINE B
NORTH SUPPLY: 782365, S782068, S782073, S7882073
NOTIFIER: PE612, PE6512, PE712
OEC MEDICAL SYSTEMS INC.: 85 POWER UNIT
OHIO MEDICAL PRODUCTS: 5000 OXIMETER, OXIMETER 5000
ONEAC: 600, 900, 1300, 2000, 350059, 1BP107, 1BP207, 1BP407, 1BP607, 400XR, BT, BT2PAC, BT4PAC, ON1300, ON1300XRA, ON2000, ON2000XRA, ON400XR, ON400XRA, ON600, ON600XRA, ON900, ON900XRA, ONEBP107, ONEBP207, ONEBP407, ONEBP607, UP1103
OPTI: 420E
OPTRONICS: A5712
PACE: 300 MINIPACK, 3000 MINIPACK, 3100 MINIPACK, 800+ VITALMAX, MINIPACK 300, MINIPACK 3000, MINIPACK 3100, VITALMAX 800 +
Panasonic: LC-R127R2P
PARA SYSTEMS: 250, 1000, 1200, 3000CP, 300SS, 600SS, A300, A425, A750, AT650 (OPTION), BA12V7, BP48V13, CP1K, CP2K, CP3K (208v ONLY), CP500, LCR12V6.5BP1, LCR12V6.5P1, Minuteman 1000, Minuteman 250, Minuteman 3000CP, Minuteman 300SS, Minuteman 450, Minuteman 600, Minuteman 600SS, Minuteman 900SS, Minuteman AT650, Minuteman PLM1250, MM1200, MM300, MM3000CP1, MM300SS1, MM450, MM850, PML1250, PML600, PML900
PARKS MEDICAL: 010 BIDIRECTIONAL DOPPLER, 1102 COMPRESSOR, 1103 COMPRESSOR, 1105 COMPRESSOR, 3000 MINI LAB #4, COMPRESSOR 1102, COMPRESSOR 1103, COMPRESSOR 1105
POWER BATTERY: ES6512, ES712, PM127
POWER EQUIPMENT: 46LAWN MOWER, BRUSH MOWER, FIELD
POWER PATROL: SLA1079
POWER SOURCE: 1235
POWER STAR BATTERIES: GB1265
POWER TANK: MX12070
POWERSONIC: PS-1270
POWERTRON: H1X6XST, PE712RF1
PRISM: GH1270
PROTECTION ONE: BT0003N, BT1053N
PYROTRONICS: 175085054
QUANTUM: ES6512
R & D BATTERIES: 5390, 5505, 5549
RADIONICS: 8012 SERIES, 8100 SERIES, D126, D12612V
RICO: ASPIRATOR
RICO: GC1245
SAFE: 650, SM650
SAFE POWER: 650, S300, SM650
SCHUCO INC.: 138 ASPIRATOR
SCI: 10023118
SCOOTER: SPS500AT
SEARS: 14485500, 900797730
SEBRA: 1070 TUBE SEALERA
SEC MICROLYTE: SEC127
SIGMA: 4000 INFUSION PUMP
SIGNTEK: QUICKUPS1000, SSA120
SILENT KNIGHT: 6712
SILTRON: EM56, EM56CH
SIMPLEX: 2350, 4002, 20819272, 20819288, STR112112
SNORKEL: SCOOTER 41
SOLA: 510, 2993638601, 310A, 900VA
SSCOR: 3001, 30011, 30012, 40013, 0002 PORTABLE SUCTION UN, 30002 PORTABLE SUCTION, 40002 PORTABLE SUCTION, 40014 SSCORT4 PACVAC, 90022 SUCTION, AE6960, AE6969 SSCORT II, IV SSCORT, PACVAC SUCTION UNITS, SSCORT II AE6969, SSCORT IV, SSCORT JR, SSCORT SUCTION UNITS, VAC STAT SUCTION UNITS, VACSTAT PORTABLE SUCTION
STORAGE BATTERY SYSTEMS: S1270
SUNRISE MEDICAL CORPORATION: OMEDICS CONTROLLER 3500
SURGIDYNE: 50022E VARIDYNE
SYSTEM POWER SPECIALIST: LCR12V6.5BP
TEAL: 1180007, FDS100, S127
TEC: 82B132304 -1ea AAPA5001, FDS200 SEALED LEAD, FDS200CPU, FDS300CPU, H1700F - 1ea AAPA5001, NP71, TEC H1700 AAPA5001- 1 EA, FDS200
TECHNACELL: EP1250, EP1260, EP126026, EP1265, EP1270, EP127026, EP1280, TC1075, TC1270
TELEDYNE BIG BEAM: S127
TELESYS: DB127
TEMPEST: ES6512, ES712, TR712
TOLEDO SCALES: 11617600A SCALE, INFANT SCALE
TOPAZ: CUB550
TOSHIBA: 500, 750, 1200 MODEL 3, 1200 SER.5KVA OPT, 1200 SERIES 3 KVA, 1200 SERIES 5KVA, 5KVA 240 VOLT, 5KVA208 VOLT, ECB1U12030U, PR00015P31
TRIAD: UPS600
TRIO LIGHTING: TL930035
TRIPP LITE: BC300 INTERNET, BC325A, BC400 Standby UPS, BC420, BC450, BC500, BC500 INTERNET, BC500LAN, BC675, OFFICE 500, OMNISMART 450, SMART 500, 360SX, BC230, BC325, CP 350, OM1995, OmniPro 850, OmniSmart 1400HG, Smart 400, Smart 600, Smart 700HG, BCPRO250, BCPRO600, PS4.5, PS6.0, PS8.0, SMART 1400RM2U, TLRBC37
TSI POWER: 3150
ULTRA TECH: IM1270
UNION BATTERY: MX12070, PW1207
UNIPOWER: UB12070
UNIPOWER: UB12070
UNISON: UNISON MPS1200 SLA7-12 1 12V 7.2 Ah SLA, UNISON MPS1500 SLA7-12 1 12V 7.2 Ah SLA, Unison PS6 SLA7-12 2 12V 7.0Ah SLA, UNISON PS6.0 SLA7-12 1 12V 7.2 Ah SLA, UNISON PS8.0 SLA7-12 1 12V 7.2 Ah SLA, MPS1200, MPS1500, PS6, PS6.0, PS8.0
UNIVERSAL BATTERY: UB1270
UPG: UB1270
UPSONIC: LAN 100, LAN 150, LAN 60, Might 35, PC Mate 55, PCM140, PCM140VR, PCM200, PCM200VR, PCM35, PCM55, PCM55R, PCMATE 55, STATION 140, Station 140A, STATION 200, STATION 28, STATION 40, STATION 60, SYSTEM 100, SYSTEM 300, SYSTEM 60, UPS1250, UPS200, UPS600
VARIDYNE: 50022E VACUUM CONTROLLER
VITEQ: 386 LAN, BENCHMARK 386 LAN
VOLCANO: KB1270
YUASA: NP7-12, NPX-35
ZAPOTEK BATTERIES: RX501N, RX50IN, RX510N
ZEUS: PC7.2-12F1
ZTONG YEE INDUSTRIAL: 650, SM650
12 Volt - 8 Ah - F1 Terminal - UB1280 - AGM Battery - UPG D5743
is rated out of
5
by
15
.
Rated

5

out of

5
by
W2NVO
from
The right battery, at the right price, no problems
I had recently purchased a similar product for my house alarm system. Checking 1000 bulbs web site I noticed a similar battery at just slightly more than half the price I paid at the local store. I decided to try one of yours. Ordering it was a simple action. No confusion with difficult specifications or prices. It arrived on time as promised and in perfect condition and charged ready for use. After putting it through my testing I now have it in a standby mode with a float charger on it ready to replace either my alarm battery, my emergency telephone battery or the one in my garage door opener should any of them fail. A GREAT deal. Bob, (BSEE)
Date published: 2015-05-01
Rated

5

out of

5
by
Joe39
from
I am happy with my purchase!
They are working well and I saved some money.
Date published: 2015-03-30
Rated

5

out of

5
by
jet10rht
from
This battery is a perfect fit!
I was looking for a battery to power 2 bulbs in an address sign by our street. This battery is perfect for my needs. It has more than enough amps to power the lights for multiple days if there is not enough sunlight to recharge it daily.
Date published: 2015-03-16
Rated

5

out of

5
by
fiteqprpr
from
Great price great service what's not rave about!
Great product great price fast shipping I couldn't ask for more
Date published: 2012-05-10
Rated

5

out of

5
by
Silverfox
from
Product was easy to find on the internet and to install
The product was the same batteries that came with the power back up system. That made easy to find on your web site.
Date published: 2012-03-22
Rated

5

out of

5
by
Mechanic
from
Better than item it replaced
This battery was the exact dimensions of the battery it replaced, a higher amperage rating, and at the best price in town. Fast greatly packed shipping.Works great and would highly recomend.
Date published: 2011-07-01
Rated

5

out of

5
by
Dblood12382
from
Excellent Experience!
I needed a battery for my home security system. My options were driving to the Big Box store(s), searching for the correct fitting battery and then getting gouged at the register, or going back to the vendor who $old me the alarm. 1000bulbs had my battery for the best tax free and free shipping price delivered to my front door quickly. I'm hooked. Thank you and I will be back! Oh and one more thing, I'm no shill.
Date published: 2017-08-29
Rated

5

out of

5
by
dcr1
from
Fast Delivery, Easy Ordering, Great Price!
I needed a fast shipment to repair an important business UPS system. The 1000Bulbs Team came through and helped solve a problem quickly and cost effectively. The batteries are working perfectly.
Date published: 2017-06-30