Ceiling Mount Motion Sensors
Ceiling Mount Motion Sensors

Wireless Occupancy/Vacancy Control Switch - 360 Deg. Detection
Ceiling Mount - Battery Powered - 676 sq. ft. Coverage - White - 3V DC - Lutron LRF2-VCR2B-P-WH
Coverage: 676 sq. ft.
Field of View: 360 Deg.
Load Type: FL, Incandescent
Sold Separately: Pico Wireless Controls
Time Delay: 1, 5, 15, or 30 min.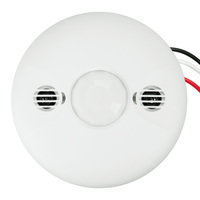 360 Deg. Occupancy Sensor - Ceiling Mount
For use with Intermatic Controls - 1600 sq. ft. Coverage - 120/277 Volt - Intermatic IOS-CMP-DT-U
Coverage: 1,600 sq. ft. PIR, 1000 sq. ft. Ultrasonic
Load Type: CFL, Fluorescent, Incandescent, LED
Motion Detection: PIR (Passive Infrared), Ultrasonic
Time Delay: 5 sec. to 30 min.
Motion Light Switches - Ceiling Mount
Available in both active and passive technology, these motion sensors are designed for ceiling mounting. Choose from a wide range of coverage areas and mounting heights to suit the needs of your space. These sensors are available in a variety of load types including CFL, halogen, incandescent, and LED. Some of these ceiling mount sensors can be paired with multiple sensors connected to the same light switch to cover more area. Need assistance selecting the perfect motion light switch for your application? Feel free to contact our support staff at 1-800-624-4488.