Fluorescent Wraparound Fixtures
Fluorescent Ceiling Lights | Fluorescent Wrap Fixtures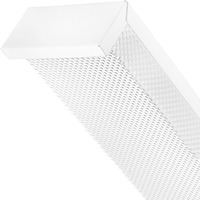 4 ft. Fluorescent Wraparound Fixture - 2 Lamp - F32T8
Length 48 in. x Width 5 in. - 120 Volt - Lamps Sold Separately - 2 Year Warranty - Lithonia 3348 2L32W
Operates: F32T8
Length Ft: 4 ft.
Height: 2.5 in.
Width: 5.13 in.
Warranty: 2 Years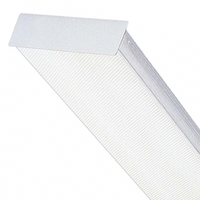 4 ft. Fluorescent Wraparound Fixture - 2 Lamp - F32T8
Length 48 in. x Width 8.75 in. - 120-277 Volt - Lamps Sold Separately - 2 Year Warranty - Lithonia SB232 MV
Operates: F32T8
Length Ft: 4 ft.
Height: 2.63 in.
Width: 8.75 in.
Warranty: 2 Years

Surface Mount Ceiling Fixtures - Fluorescent Wraparound
These fluorescent wraparound, unlike recessed troffers, mount onto the surface of ceilings and emit light from the sides of the fixture instead of only downward. Whether you need 2 or 4 foot wraparound fixtures, you'll find the T8 bulb fixture you need for your commercial or residential application. We carry a wide range of widths, styles, wattages, and lens types to suit your needs. These fixtures are available with the lamps sold separately to allow for a customized lighting design. Need help deciding which fixture is the best choice for you? Give us a call at 1-800-624-4488 to speak to a lighting expert.