Type B - Ballast Bypass - 4000 Kelvin - T8 Retrofit LED Tubes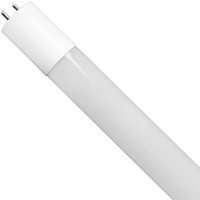 1800 Lumens - 15 Watt - 4000 Kelvin - 4 ft. LED T8 Tube Lamp - Type B Ballast Bypass
Single-Ended Power - 120-277 Volt - Case of 25 - PLT-90031
Wiring: Single-Ended Wiring
Operation: Type B Ballast Bypass
Lampholder(s): Non-shunted
Warranty: 5-Year Limited
Sold only by the Case of 25 for $106.25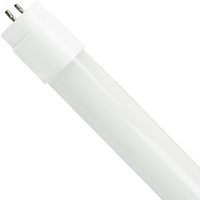 2400 Lumens - 18.5 Watt - 4100 Kelvin - 4 ft. LED T8 Tube Lamp - Type B Ballast Bypass
Single-Ended Power - 120-277 Volt - Case of 25 - TCP 88LT800003
Life Hours: 50,000
Wiring: Single-Ended Wiring
Operation: Type B Ballast Bypass
Lampholder(s): Non-shunted
Warranty: 5-Year Limited
Case Quantity: 25
Sold only by the Case of 25 for $129.12



1685 Lumens - 10 Watt - 4100 Kelvin - 4 ft. LED T8 Tube Lamp - Type B Ballast Bypass
Single-Ended or Double-Ended Power - 120-277 Volt - Case of 25 - Archipelago Lighting LT8F41041DE5
Wiring: Double-Ended Wiring, Single-Ended Wiring
Operation: Type B Ballast Bypass
Lampholder(s): Non-shunted, Shunted
Sold only by the Case of 25 for $135.02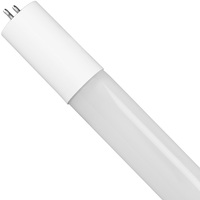 1800 Lumens - 12 Watt - 4000 Kelvin - 4 ft. LED T8 Tube Lamp - Type B Ballast Bypass
Single-Ended or Double-Ended Power - 120-277 Volt - Case of 25 - PLTS-20113
Wiring: Double-Ended Wiring, Single-Ended Wiring
Operation: Type B Ballast Bypass
Lampholder(s): Non-shunted, Shunted
Warranty: 5-Year Limited
Sold only by the Case of 25 for $136.14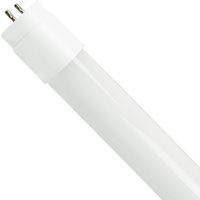 2000 Lumens - 15 Watt - 4100 Kelvin - 4 ft. LED T8 Tube Lamp - Type B Ballast Bypass
Single-Ended Power - 120-277 Volt - Case of 25 - TCP 88LT800001
Life Hours: 50,000
Wiring: Single-Ended Wiring
Operation: Type B Ballast Bypass
Lampholder(s): Non-shunted
Warranty: 5-Year Limited
Sold only by the Case of 25 for $139.74




2200 Lumens - 17 Watt - 4000 Kelvin - 4 ft. LED T8 Tube Lamp - Type B Ballast Bypass
Single-Ended or Double-Ended Power - 120-277 Volt - Case of 25 - PLTS-20110
Wiring: Double-Ended Wiring, Single-Ended Wiring
Operation: Type B Ballast Bypass
Lampholder(s): Non-shunted, Shunted
Warranty: 5-Year Limited
Sold only by the Case of 25 for $144.97




1800 Lumens - 12 Watt - 4000 Kelvin - 4 ft. LED T8 Tube Lamp - Type B Ballast Bypass
Single-Ended or Double-Ended Power - 120-277 Volt - Case of 25 - PLTS-20120
Wiring: Double-Ended Wiring, Single-Ended Wiring
Operation: Type B Ballast Bypass
Lampholder(s): Non-shunted, Shunted
Warranty: 5-Year Limited
Sold only by the Case of 25 for $200.34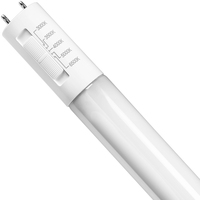 Sold only by the Case of 25 for $215.60




Sold only by the Case of 25 for $215.60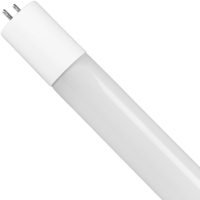 1800 Lumens - 13.5 Watt - 4000 Kelvin - 4 ft. LED T8 Tube Lamp - Type B Ballast Bypass
Dimmable - Single-Ended Power - 120 Volt - Case of 25 - Satco S11922
Wiring: Single-Ended Wiring
Operation: Type B Ballast Bypass
Lampholder(s): Non-shunted
Warranty: 5-Year Limited
Sold only by the Case of 25 for $310.42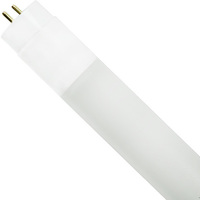 3000 Lumens - 24.5 Watt - 4100 Kelvin - 4 ft. LED T8 Tube Lamp - Type B Ballast Bypass
Single-Ended Power or Double-Ended Power - 120-277 Volt - Case of 25 - TCP LPT824B241K
Life Hours: 50,000
Wiring: Double-Ended Wiring, Single-Ended Wiring
Operation: Type B Ballast Bypass
Lampholder(s): Non-shunted, Shunted
Warranty: 5-Year Limited
Case Quantity: 25
Sold only by the Case of 25 for $363.71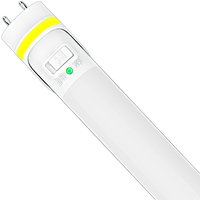 Sold only by the 2 Pack for $171.24




12.5 Watt - 2000 Lumens - 4 ft. Color Selectable LED T8 Tube Lamp with Emergency Backup - Type B Ballast Bypass
Kelvin 3500-4000-5000 - Single-Ended Power - 120-277 Volt - Case of 10 - PLT-90377
Keep your business lit during a power outage with PLT's case of 10 4-ft. LED T8 tubes with emergency backup, which emit 500 lumens for 90 minutes in emergency mode.
Sold only by the Case of 10 for $584.04


Type B - Ballast Bypass - 4000 Kelvin - T8 Retrofit LED Tubes
Type B ballast bypass 4000 Kelvin T8 retrofit LED tubes are a type of energy-efficient lighting technology designed to replace traditional fluorescent lamps in commercial and residential settings. These LED tubes are characterized by their 4000 Kelvin color temperature, which produces a bright, neutral white light that is ideal for work environments and other settings where clear visibility is important.
The term "ballast bypass" refers to the fact that these LED tubes require the removal of the existing fluorescent ballast to operate. Instead, the LED tube is connected directly to the electrical circuit, typically using non-shunted lamp holders. This bypass process may require a licensed electrician to ensure proper installation and safety compliance.
By bypassing the ballast, these retrofit LED tubes can operate more efficiently, with lower energy consumption and longer lifetimes. They typically consume around half of the power used by traditional 32-Watt T8 fluorescent lamps, resulting in significant energy savings over time. Additionally, LED technology offers a far longer lifespan.