Christmas Lights - Indoor and Outdoor String Lights
---

History of Christmas Lights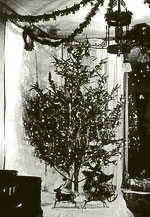 First Christmas tree with
electric lights, 1882
Christmas lights have been one of the most popular Christmas decorations for the past century. In 1882, three years after Edison invented the first sensible light bulb, Edward H. Johnson created the first Christmas lights in his home in New York City. The tree was hand-wired and lit with 80 red, white, and blue globes. The lights blinked and twinkled while the tree slowly revolved.
Christmas lights were first made available for sale in 1890, but were so expensive that most people could not afford them. They were a symbol of status among the wealthy and many people rented lights instead of buying them. In 1903, one set of 24 Christmas lights sold for $12.00. Considering the average person made about $9 a week, this was far too extravagant for the normal family. In addition to the cost of the lights, the service of a wireman was required and, if the house was not electrically powered, they also needed a generator.
Outdoor Christmas lights did not become practical for the average family until the 1930s. By this time, not only were homes decorated with electric lights, stores, community Christmas trees, and government buildings were also adorned with the twinkling lights. General Electric began to sponsor community Christmas lighting competitions in the 1920s, but it wasn't until the 1950s that it was common to see rows of houses lit on the outside. Today, the places you find the lights are as numerous as the types of lights available.
Before You Buy Christmas Lights
Ask yourself these important questions before you start buying Christmas lights:
Are incandescent Christmas lights or LED Christmas lights right for me?
What shape, style, and size of Christmas lights will I need?
What length of stringers are necessary for my application?
What color Christmas lights do I want?
LED Christmas Lights vs Incandescent Christmas Lights
For years the standard for Christmas lighting has been an incandescent C7 or C9 bulb. This is the traditional candle shaped glass bulb that you still may see lining houses across the country every winter. These styles of bulbs have a distinct twinkle and color and make many people feel nostalgic. As technology advanced, many people realized that replacing their incandescent Christmas lights with LED Christmas lights saves energy while providing the same (or more) amount of light than traditional incandescent Christmas lights. Also, many users prefer that the hard plastic bulbs of LED Christmas lights as opposed to the glass bulbs of incandescent. The plastic makes the bulbs more durable and if they break the clean-up is much easier.
If you're wanting a more traditional "warm" look from your Christmas lights, then incandescent bulbs may be the right option for you. If you are more interested in energy efficiency and a longer lasting life span, LED may be the best option for you.
Shapes, Styles, and Sizes of Christmas Lights
Mini String Lights
Mini string lights' versatility make them the most popular style of Christmas lights because of their versatility. Available in either incandescent or LED technologies and in a wide range of color options, these Christmas lights are the perfect addition to almost any Christmas lighting design. All of our mini string lights are very reliable and stay lit if a single bulb fails. Our incandescent mini string lights come with replacement lamps.
C7s and C9s
Outdoor Christmas lights are most often C7 or C9 string lights. Either size is an excellent choice for those that want a more classic feel for their Christmas lighting. The difference between these types of outdoor Christmas light is primarily the size of the bulb. The number after the "C" represents the diameter of the bulb in eighths of an inch; for example, a C7 bulb is 7/8" or .875" in diameter. The larger the number, the bigger the bulb. These string lights are available in several colors and in either LED or incandescent options. If you're looking to customize the colors in your Christmas lighting design, we also offer C7/C9 light strands and bulbs sold separately.
Battery Operated Christmas Lights
Illuminate mantles, wreaths, or even centerpieces without needing to worry about having a nearby outlet or running an extension cord with battery operated Christmas lights. From lit ribbons and InvisiLite strings to LED spheres and mini light strings, you're sure to find the right battery operated Christmas lights for this holiday season.
Net Lights
You can't go wrong with net lights or tree wrap lights for trees, columns, and bushes. Net lights are lights organized in a "net", designed to be laid over bushes or shrubs to add a touch of flair to your landscaping during the holiday season.
Icicle String Lights
Icicle string lights are a great way to add unique styling elements to your Christmas light display. Icicle Christmas lights look best hanging along deck railings, from gutters, under eves, or around windows. Since icicle lights come in a variety of lengths and spacing, it's important to stay consistent by purchasing the same length for your entire application. This way your home looks consistent and well put together. Another important note is to keep the lighting technology the same. Avoid trying to connect LED icicle lights to incandescent icicle lights to prevent electrical issue.
Tree Wrap Lights
Easily and effectively wrap tree trunks with Christmas lights to create some holiday spirit in your yard. Tree wrap lights are shaped similarly to net lights, but are designed to hug or wrap a cylindrical object like a tree truk, post, or pole.
Check out our Christmas lights by application page if you need further insight on how to best use your light strings! Or do you need technical help with your holiday decorations this year? Our lighting experts are available at 1-800-624-4488 to help you make your Christmas really shine!
How Much Christmas Lighting Do You Need?
Roof
Unfortunately, there's no easy answer. There are many factors to consider, such as how much house are you trying to light? Are there dormers that need to be lit? Are all sides of the house going to be lit? If you're wanting to get the most accurate estimate of how many stringers you'll need, you need to measure your roof line.
Bushes
Average size bushes or hedges should be fine with one 2' x 4' net light, but you can add more for bigger bushes or get different sized net lights.
Trees
You have a couple options here. First, you could go with a tree wrap lighting setup. Similar to net lights, tree wrap lights are a net shaped lighting kit designed to wrap around tree trunks easily.
If tree wrap lights aren't something you're interested in, mini lights are a great alternative that allow you to customize the actual wrapping itself. You can make tighter wraps for a "fuller" look, or you can do a loose wrap for larger trunks.
Windows
For average single-width windows, one 14' - 18' mini light stringer should work fine. For larger windows you'll need longer stringers or maybe even multiple stringers.
Doors
For average width and height doors, one 16' mini light stringer will work. But since doors come in many sizes, you should measure and find a stringer to fit more accurately.
Railings
The most common type of lighting for railings is mini lights. However, if you want bigger bulbs, you can also use C7 or C9 stringers. For metal railings, you can use magnetic clips for easy installation.
Pillars
For pillars, you have the same options as trees since the application is so similar. Tree wrap lights will make for easy installation, otherwise mini lights wrapped around the pillar will work just fine.
What Color Christmas Lights Should I Get?
The color you choose for your Christmas lights is completely subjective to user preference. From solid traditional warm white to multi-color, there's a wide variety of colors and patterns to choose when decorating your home with Christmas lights.
Once you determine the length of stringers you need, you can truly customize your Christmas lighting display by carefully picking the color, or colors, of bulbs to add to the stringers. Some homeowners opt for solid colors, while others create complex patterns between the house, to the trees, and even down to the pathway lights. You can truly customize your Christmas lighting setup however you'd like.
Christmas Lights FAQs
If a bulb on a string of LED Christmas lights goes out, will I have to replace the whole string?
No. If a regular LED C7 or C9 goes out, the rest of the string will be fine and you'll just need to replace the bad bulb.
How many bulbs can I have in one run?
To be safe, you need to ensure you don't overload your system by plugging in too many lights to one run. A standard 15 amp breaker can handle 1800 watts (assuming there is nothing else on the breaker) so you can typically run:
Incandescent C7 - 360 bulbs
Incandescent C9 - 250 bulbs
LED C7 or C9 - 3600 bulbs
Do LED Christmas lights get hot?
No, LED Christmas lights do not get hot. LED technology, by design, runs cooler than its predecessors. High output commercial LEDs can put out more heat due to the larger energy demand, but LED Christmas lights do not put out enough light to warrant hot running temperatures.