Enerlites Dimmer Switches

Incandescent/ Halogen Dimmer - 3-Way
Almond - 700 Watt Maximum - Slide Switch - 120 Volt - Enerlites 50301-A
Color: Almond
Maximum Wattage: 700 Watt
Load Type: Halogen, Incandescent
Operation: 3-Way
Height: 5.5 in.
Width: 4.75 in.
Case Quantity: 10

Incandescent/Halogen Dimmer - 3-Way
Ivory - 700 Watt Maximum - Slide Switch - 120 Volt - Enerlites 50301-I
Maximum Wattage: 700 Watt
Load Type: Halogen, Incandescent
Height: 5.5 in.
Width: 4.75 in.

Incandescent / Halogen Dimmer - 3-Way
White - 700 Watt Maximum - Slide Switch - 120 Volt - Enerlites 50301-W
Maximum Wattage: 700 Watt
Load Type: Halogen, Incandescent
Operation: 3-Way
Height: 5.5 in.
Width: 4.75 in.
Case Quantity: 10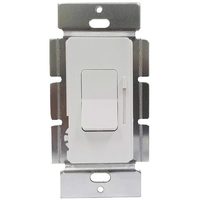 0-10 Volt - LED Dimmer - Single Pole/3-Way
50mA Max. Current - Paddle and Slide Switch - 120-277 Volt - Enerlites 51300L
Family: N/A
Color: White
Voltage: 120, 208, 240, 277
Load Rating: 0-10 Volt
Load Type: LED
Maximum Current: 50 mA
Sold Separately: Wall Plate

Dimmer Switches - Enerlites
If you are looking for Enerlites dimmer switches for your home or business, look no further than 1000Bulbs.com. Our selection of Enerlites brand dimmers includes various load types like halogen, LED, CFL, and incandescent in either 3-way or single pole operation options. Combination fan and light dimmers are also available. Choose from several colors including black, white, and ivory to best match your style. Some dimmers do not come with the matching wall plate but can be found here. For color consistency, we recommend sticking to the same manufacturer. For assistance selecting the right dimmer for your application, contact our team of lighting experts at 1-800-624-4488.