F14T12 Fluorescent Ballasts | T12 Magnetic Ballasts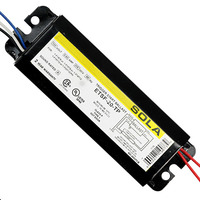 Sola ETSF-20-TP
(1) Lamp - F14T12 or F15T12 or F20T12 - 120 Volt - Trigger Start - 0.91 Ballast Factor
Voltage: 120
Ratings and Certifications: CSA, Indoor, Outdoor, UL
Ballast Factor: 0.91
Power Factor: 37%
Start Method: Trigger Start
THD: 9%
Case Quantity: 16


Sola ERSF-220-60-TP
(2) Lamp - F14T12, F15T12, or F20T12 - 120 Volt - Trigger Start - 0.7 Ballast Factor
Voltage: 120
Ratings and Certifications: CSA, Indoor, Outdoor, UL
Ballast Factor: 0.7
Power Factor: 65%
Start Method: Trigger Start
THD: 6%
Case Quantity: 24

These trigger start T12 magnetic ballasts operate one or two F14T12, F15T12, and F20T12 lamps by heating the filaments before applying the starting voltage. Unlike older preheat start magnetic ballasts, these F14T12 ballasts don't require a starter but there may be a delay of several seconds before the lamps light. When being used for an outdoor application, ensure that the ballast has adequate protection against rain and other weather.
Ballast Factor
When choosing a F14T12 ballast, make sure to consider the ballast factor. This is the measure of how well the ballast is able to produce light from the lamps it powers and is represented by a number between 0.5 and 1.3. T12 magnetic ballasts with a low ballast factor (less than 0.77) operate lamps below the rated wattage and Lumen output to reduce energy usage and extend lamp life. These F14T12 ballasts are better for areas such as lobbies, hallways, and stairwells where you don't need as much brightness. To operate lamps at or near the rated wattage and Lumen output, choose ballasts with a normal ballast factor (0.77 to 1.1). These T12 magnetic ballasts are ideal for offices, stores, board rooms, and other similar applications.
Not sure which T12 magnetic ballast is appropriate for your application? Our knowledgeable experts are here to help. Call 1-800-624-4488 today!