Grow Light Timers and Controllers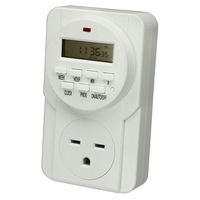 UltraGROW UG-TR/D1/240 - 7 Day Digital Programmable Timer
1 Outlet - Controls Grow System Devices - 3500 Max Wattage - 240V - 15A
Maximum Wattage: 3500 Watts
Voltage: 240
Hertz: 60
Amperage: 15 Amps
Battery Backup: Yes
Number of Outlets: 1
Set Points: 1 Minute On/Off - 8 Cycles/Day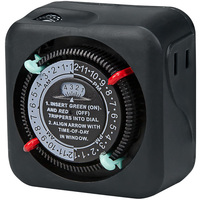 24 Hour Mechanical Indoor Timer - 9 Amp
1 Outlet - 1125 Watt Maximum - 125 Volt - Intermatic TN111RM40
Voltage: 125
Amperage: 9 Amps
Number of Outlets: 1
Set Points: 2 On / 2 Off Settings per Day
Case Quantity: 36

Grow Light Timers and Controllers
Use grow light timers and controllers to control lights, manage ballasts, adjust cooling and heating, and monitor CO2 levels for grow light systems. These devices automate your system, ensuring your lights have a consistent schedule optimized for daily growth. The length of time lights should be on will vary depending on what plants you are growing. Make sure to research your plants to keep from giving them too much or too little light. Timers and controllers can be used for any size indoor grow setup.
Types and Benefits of Grow Light Timers
Grow light timers have one or two outlets that operate multiple fixtures. If you have several fixtures linked together, make sure their combined amperage is lower than that of the timer. Aside from lights, these timers control pumps, fans, and other appliances. These timers are best for smaller systems since large systems, such as HID (high intensity discharge), can damage and overheat them. Grow light timers are easy to set up, simply plug the timer into any household outlet, set the time, and then plug the fixture directly into the timer.
There are several types of grow light timers available:
Mechanical timers operate by using clockwork to measure the time on a 24 hours cycle with several on and off points per day in 1 hour intervals.
Analog grow light timers are set using the large dial on the front and cover a 24 hour cycle with multiple on and off points per day.
Digital grow light timers allow for more precision when setting, allowing you to schedule down to the minute you need the fixture to come on or turn off.
Type and Benefits of Grow Light Controllers
Grow light controllers are ideal for larger setups with multiple ballasts. Multi-unit HID light controllers are for use with HID ballasts and should be installed by an electrician. These grow light controller boxes allow you to turn on or off all connected units at once with a master switch. Grow light controller boxes can have between 2 to 24 outlets that meet NEMA (National Electrical Manufacturers Association) safety standards. Some devices have a built-in timers, overload protection, and additional outlets for fan or cooling systems.
Use cooling and heating thermostats to control heat lamps and fans depending on the current temperature of your grow room. Cooling and heating thermostats are easily programed to turn on and off at desired temperatures and can be toggled between heat and cool settings to match the season. For indoor use only, these controllers should not be used in areas where they come in direct contact with moisture or water.
Exclusively for use with Gravita E-Series products, Gravita E-Series grow light controllers plug-and-play with your Sunlight Supply fixtures using USB cables. Operating up to 40 ballasts, this grow light timer controller turns off if the system starts to overheat. Use the sunrise/sunset settings to help your crop adjust to a light on or lights off period by recreating the rising and setting of the sun.
CO2 controllers are paired with CO2 generators to detect carbon dioxide levels and adjust the generator accordingly. An LED indicator shows the current CO2 levels. CO2 controllers should not come in direct contact with water.
Where to Use Grow Light Timers and Controllers
Grow light controller boxes and timers are used with most grow light systems. Check the spec sheets for your lamps and ballasts to see if there are any recommended timers or controllers. Timers and grow light controller boxes may also have recommended lamps and ballasts as well. CFL grow lights should only be used with mechanical timers. Digital timers can interfere with the internal ballast of CFL lamps.
Some grow light timers and controllers only have NEMA 6-15R outlets, which accepts two horizontal upper prongs. Double-check your ballast and reflector plugs to see what you have. You should also make sure to check the safety ratings of your grow light controllers and timers to ensure that you are using them in a safe location. Devices rated for dry locations should not be used in areas where they may get wet.
Having trouble deciding which grow light timer or grow light controller box is right for your grow room? Call 1-800-624-4488 today to speak to one of our knowledgeable grow light experts.