C9 LED Warm White Christmas Lights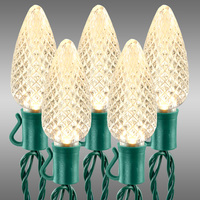 17 ft. - Warm White - LED C9 Christmas String Lights - 25 Bulbs
Green Wire - 8 in. Bulb Spacing - 90 Max. Connections - Commercial Grade
Bulb Color: Warm White
Wire Gauge: 22 AWG
Wattage: 2.4 Watt
Lighted Length: 16.5 ft.
Bulbs Per String: 25
Case Quantity: 12

Discount Available!


17 ft. - Warm White Deluxe - LED C9 Christmas String Lights - 25 Bulbs
Green Wire - 8 in. Bulb Spacing - 90 Max. Connections - Commercial Grade
Bulb Color: Warm White Deluxe
Wire Gauge: 22 AWG
Wattage: 2.4 Watt
Lighted Length: 16.5 ft.
Bulbs Per String: 25
Case Quantity: 24

Discount Available!

C9 LED Warm White Christmas Light Strings
C9 LED warm white Christmas light strings are an excellent choice for holiday decorations. They provide the warm glow of traditional incandescent bulbs while using far less energy and lasting much longer.
One of the main benefits of C9 LED warm white Christmas light strings is their energy efficiency. They consume up to 90% less energy than traditional incandescent bulbs, making them a more environmentally friendly and cost-effective choice. Additionally, LED lights have a longer lifespan than incandescent bulbs, meaning they won't need to be replaced as often, reducing waste and saving money in the long run.
C9 LED warm white Christmas light strings also offer a brighter and more consistent light than incandescent bulbs. They produce a pure white light that doesn't have the yellowish tint that can sometimes be found with incandescent bulbs. This makes them ideal for creating a warm and inviting ambiance in any indoor or outdoor setting.