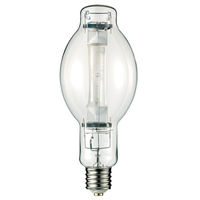 1000 Watt - BT37 - Metal Halide - Grow Light
4200K - 115,000 Lumens - ANSI M47/E - Hortilux 53967
Order Code: M1000B/U/BT37/HTL
ANSI Code: M47/E
Lumens: 115,000
Base Type: Mogul (E39)
Burn Position: Universal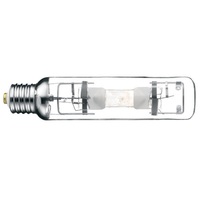 400 Watt - T17 - Metal Halide - Grow Light
6500K - 29,000 Lumens - ANSI M59/E - 90 CRI - Hortilux Blue 57816
Order Code: MT400D/HOR/HTL-BLUE
ANSI Code: M59/E
Family: Hortilux Blue
Bulb Shape: T17
CRI: High CRI (90 and Up)
Color Temperature: 6500 Kelvin
Life Hours: 12,000
Wattage: 400 Watt
Lumens: 29,000
Base Type: Mogul (E39)
Protected: No
Burn Position: Horizontal +/- 15 Degrees
Case Quantity: 12
Metal Halide Grow Light Bulbs
Find top brand metal halide grow bulbs at 1000Bulbs.com. Delivering a blue to white spectrum light, metal halide (MH) bulbs are used for the vegetative stage of growing. These bulbs put out a broad spectrum of light that will help your plants grow stronger roots and healthy leaves. For plants in the flowering stage, check out high pressure sodium (HPS) lights.
How High Should Metal Halide Grow Bulbs Be Mounted?
A 400-Watt metal halide grow light should be mounted at least 7 to 18 inches away from the tops of your plants and can light an area measuring 16 square feet. Covering a 25 square foot area, a 600-Watt MH grow light should be at least 10 to 27 inches above your plants. These bulbs can also be used with 600-Watt HPS MH grow light systems. For larger areas, a 1000-Watt metal halide grow light is a better choice. It covers a 6 square foot space and should be mount at least 12 to 31 inches over the plants. Depending on the type of plant, you may need to adjust the height of your MH grow light.
How Many Plants Can I Grow Under Metal Halide Grow Bulbs?
There is no set standard for determining how many plants can be grown under one MH grow light. It is dependent on the type of plants and how much space is needed to grow. Some experts suggest going by the bulb wattage, suggesting anywhere between 36 to 100 Watts per plant. This would mean you could have 4 to 11 plants under one grow light. Since this would not work with all plants, it is best to research your specific plants to see how much space they need.
Things to Look for When Choosing a Metal Halide Grow Light
Metal halide grow bulbs generate heat, so you need to have good ventilation in your growing area. This helps protect your plants from burning and drying out and also ensures your equipment functions properly. Metal halide grow lights must be used with ballasts, with each bulb having an ANSI code. The ANSI code is a three letter code that is used to find ballasts it can be paired with. If the code on the ballast matches the one on the bulb, then they are compatible.
Always check to see what burn position your bulb requires. Burn position is the position in which the bulb can safely be installed. Incorrect positioning of MH grow lights can decrease the life span of the bulb. Most metal halide grow bulbs are either horizontal mount (mounted parallel to the ground only) or universal mount (can be used in any position). However, there are some horizontal bulbs that require an additional adjustment of plus or minus 15 degrees. You should also check to see what base your grow light fixture accepts. These metal halide grow lights are available with mogul (E39) and mogul extended (EX39) bases.
Having trouble figuring out how many metal halide grow bulbs you need for your space? Don't worry. Our experts are here to help at 1-800-624-4488!