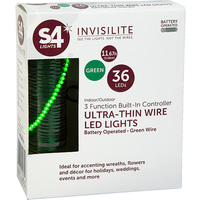 13.5 ft. Invisilite Wire Lights - (36) Tear Drop LEDs
4 in. Spacing - Green - Ultra Thin Green Wire - Battery Operated with Timer
Bulb Color: Green
Wire Color: Green
Battery Size: (3) C Batteries
Lighted Length: 12 ft.
Bulbs Per String: 36
Time Cycle: 6 Hrs. On / 18 Hrs. Off
Micro Christmas Lights
Are you looking for some non-traditional lights to add to your holiday decorations without having visible wires? Featuring an ultra-thin wire that is nearly invisible when wrapped into greenery, micro Christmas lights are the perfect choice. Micro Christmas lights have flexible wire that allows you to shape the string as needed and are available in both battery operated and plug-in options. Some micro Christmas lights have timers built in to keep the lights on for a preset number of hours before turning them off to conserve batteries.
Supernova micro Christmas lights have small groups of branches that come off of a main wire with a decorative wrap. The flexible branches have small embedded LEDs on the tips. These lights are battery operated and have a preset timer to turn the lights off automatically after a few hours to conserve batteries. Supernova LED lights also have multiple functions including steady on, shimmer, and chasing.
InvisiLite micro Christmas lights have tear shaped LEDs embedded on the wire that produces light viewable from any angle. Shorter strings of InvisiLite lights are battery operated, while longer strings need to be plugged into an outlet. InvisiLite strings come in single colors or multi-colored options, and some strings have functions such as phasing.
Where to Use Micro Christmas Lights
Micro Christmas lights make great additions to garlands, wreaths, tress, and other holiday decor. The thin wires are easy to nestle down into greenery and will stay in place. These ultra-thin lights are designed for indoor use only and should not be used in areas where they may be exposed to water. Micro Christmas lights are not designed to be cut to length or connected together.
Alternate Uses for Micro Christmas Lights
Micro lights aren't just for Christmas. These versatile lights can be used throughout the year in a variety of craft projects. Add a festive glow to centerpieces for Thanksgiving or weddings. Incorporate them into Halloween costumes or wear them to concerts to stand out in the crowd. Micro Christmas lights can even be used to backlight picture frames and wall decor.
Having trouble deciding which micro Christmas light is right for your holiday lighting? Call 1-800-624-4488 to speak to a member of our helpful staff today!