Bulb Spacing (Inches)
Hide
Total String Length (Feet)
Hide
White Wire - Warm White Christmas LED Mini Light Strings

LED Christmas String Lights - 17 ft. - (50) Wide Angle Warm White LED's - 4 in. Bulb Spacing - White Wire
Male and Female Plugs - 120 Volt
Wire Gauge: 22 AWG
Wattage: 4.8 Watt
Lighted Length: 16.67 ft.
Case Quantity: 25

LED Christmas String Lights - 25 ft. - (50) Wide Angle Warm White LED's - 6 in. Bulb Spacing - White Wire
Male and Female Plugs - 120 Volt - Christmas Lite Co. 1101377
Wire Gauge: 22 AWG
Wattage: 4.8 Watt
Lighted Length: 24.5 ft.
Case Quantity: 25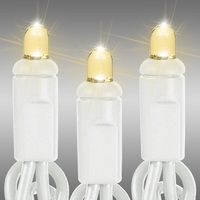 LED Christmas String Lights - 26 ft. - (50) Multi-Directional Warm White LED's - 6 in. Bulb Spacing - White Wire
Male and Female Plugs - 120 Volt - Christmas Lite Co. 50CV-WWCLW
Wire Gauge: 22 AWG
Wattage: 4.8 Watt
Lighted Length: 25 ft.
Case Quantity: 24

LED Christmas String Lights - 17 ft. - (50) Faceted Warm White Mini Light LED's - 4 in. Bulb Spacing - White Wire
Male and Female Plugs - 120 Volt - Christmas Lite Co. NBR-50M5-4WWW
Wire Gauge: 22 AWG
Wattage: 4.8 Watt
Lighted Length: 16.3 ft.
Case Quantity: 24

LED Christmas String Lights - 25 ft. - (50) Warm White Deluxe LED's - 6 in. Bulb Spacing - White Wire
Male to Female Plugs - 120 Volt - Christmas Lite Co. 50WA-6WWWDLX
Wire Gauge: 22 AWG
Wattage: 4.8 Watt
Lighted Length: 24.5 ft.
Case Quantity: 24

LED Christmas String Lights - 23 ft. - (70) Wide Angle Warm White LED's - 4 in. Bulb Spacing - White Wire
Male and Female Plugs - 120 Volt - Christmas Lite Co. - CMS-70WA-4WWW
Wire Gauge: 22 AWG
Wattage: 4.8 Watt

LED Christmas String Lights - 24 ft. - (70) Faceted Warm White Mini Light LED's - 4 in. Bulb Spacing - White Wire
Male and Female Plugs - 120 Volt - Christmas Lite Co. 70M5-4WWW
Wire Gauge: 22 AWG
Wattage: 4.8 Watt
Lighted Length: 23.3 ft.
Case Quantity: 24
White Wire - Warm White Christmas LED Mini Light Strings
Warm white Christmas LED mini light strings with white wire are a popular choice for holiday decorationsThese lights have a warm and inviting glow that adds a cozy ambiance to any space. The white wire adds a subtle and elegant touch that blends seamlessly with many decor styles.
One of the most significant benefits of using LED mini lights is their energy efficiency. Compared to traditional incandescent lights, LED lights use significantly less power, which can lead to significant cost savings on your electricity bill. Additionally, LED lights have a longer lifespan than incandescent lights, so you won't have to replace them as often.
The warm white color of these lights is perfect for creating a festive ambiance. They emit a soft glow that is soothing and comforting, making them ideal for use in bedrooms, living rooms, or any other indoor or outdoor space. Warm white lights can be used to highlight your Christmas decorations, creating a welcoming and inviting display for your family and guests.
The white wire used in these light strings is another advantage. The white wire blends in seamlessly with many surfaces and can even be used to create a "floating" effect with your lights. Available in various lengths and bulb counts, these warm white LED mini Christmas lights with white wire are perfect for all your holiday decorating needs.