Outdoor Security Lights | LED Sensor Lights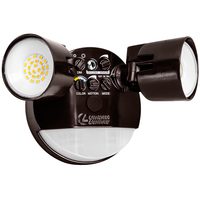 2 Wattages - 2 Lumen Outputs - 3 Colors - Selectable LED Floodlight Fixture with Motion Sensor and Photocell
Watts 21-26 - Lumens 2150-2600 - Kelvin 3000-4000-5000 - Adjustable 2-Head - 120 Volt - Lithonia HGX LED 2RH ALO SWW2 120 PIR DDB
Sensor Type: Motion, Photocell
Length: 7.52 in.
Height: 4.53 in.
Width: 4.96 in.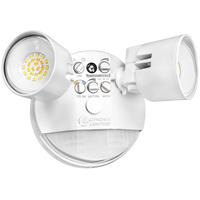 2 Wattages - 2 Lumen Outputs - 3 Colors - Selectable LED Floodlight Fixture with Motion Sensor and Photocell
Watts 21-26 - Lumens 2150-2600 - Kelvin 3000-4000-5000 - Adjustable 2-Head - 120 Volt - Lithonia HGX LED 2RH ALO SWW2 120 PIR WH
Sensor Type: Motion, Photocell
Length: 7.52 in.
Height: 4.53 in.
Width: 4.96 in.



Security Lights
Improve safety and your ability to monitor the property at night by adding security lights. 1000Bulbs.com offers a range of options that can be wall mounted, poll mounted, or placed on the ground. Some of the fixtures come with built in motion sensors and all of the lights are compatible with photocells to save energy and increase the lifespan of the fixture.
Where to Install Security Lights
Install the lights in hard to reach areas to minimize vandalism or tampering. It's important to have even light distribution, especially if using camera which have trouble picking up areas with high contrast shadows. Rather than selecting a few very bright lights, use multiple medium brightness fixtures spread evenly around the perimeter or location. This lower light level will also be easier on the eyes of people entering or exiting the building and drivers in the parking lot.
Some of the fixtures have a built in photocell, but any of them can be connected to a remotely installed photo controls. This is particularly important for south facing walls. In the northern hemisphere, photocells facing south are exposed to the most direct sunlight, meaning they burn out or fail at a higher than average rate. Ideally, the photocells face north and can be connected to south facing lights. This provides the most balanced on-off cycles. East facing photocells cause lights to turn on and off earlier while west facing photocells turn lights on and off late.
How to Select the Right Security Lighting
Motion Sensor Security Lights
Motion sensor security lights are the traditional flood light style fixtures with adjustable headlamps, motion sensors, and sometimes photocells. These fixtures are best mounted on junction boxes or walls to cast light around the perimeter of a building or structure. Though these fixtures are designed with security in mind, there any many other lighting options that provide security in other scenarios.
Flood Lights
LED flood light fixtures are designed to illuminate wide areas like pathways, fields, parking lots, and loading docks. LED flood lights are available in multiple sizes, shapes, mounting types, color temperatures, lumen outputs, and wattages. Some flood lights are ideal for security as they are integrated with photocells and motion sensors, meaning they only illuminate at night when motion is detected.
Wall Packs
Outdoor wall packs are great for security around the perimeter of a building. LED wall packs are often found above doors, loading docks, parking lots, and sidewalk. Wall packs are attached to a wall or any flat, vertical surface and cast light downward and out. Restaurants, offices, warehouses and many other commercial buildings have found great benefit from installing LED wall packs.
Landscape Lighting
Landscape lighting serves the exact purpose as its name indicates. These fixtures either illuminate landscaping, or are hidden in landscaping to cast light elsewhere. Although landscape lighting sounds simple, there's a wide variety in shapes and styles of landscape lights. Users can choose from bullet lights, pathway lights, flood fixtures, step lights, and more. If you need help deciding which landscape light fixture is right for you, chat with one of our lighting experts.
Parking Lot Fixtures
Parking lot lights are bright flood light fixtures usually mounted to the top of a tall pole used to illuminate parking lots and other large areas from above. Parking lot lights are often referred to as area lights or street lights. These fixtures can also be used to illuminate outdoor sport courts and fields.
Canopy Fixtures
If you need to illuminate an area underneath an overhang or portico, canopy light fixtures are perfect for you. Canopy fixtures a designed to mount underneath any sort of covered area or overhang where light in needed underneath. Although canopy fixtures are often found at gas stations to ensure gas pumps are well illuminated at night, they can be used anywhere with an overhang.
Bollards
Bollards are wonderful additions for any building's security. These fixtures are vertical pole-like structures, usually with integrated lights, designed to designate walking areas. Bollards are usually found lining walkways or in front of building entrances to prevent cars from driving into pedestrian areas.
Barn Lights
Though the name implies these lights are for barns only, barn lights are highly versatile and can be used as wall packs and area lights as well. Many businesses use barn lights in lieu of wall parks to illuminate walkways and doors for aesthetic purposes.