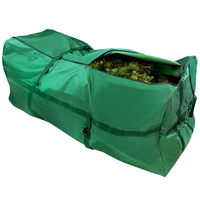 Heavy-Duty Christmas Tree Storage Bag
For 6 ft. to 9 ft. Christmas Trees
Color: Green
Material: Nylon, Plastic, Polypropylene
Length Ft: 5 ft.
Height: 24 in.
Width: 24 in.
Case Quantity: 1
Christmas Storage
Store your holiday decorations and lights safely for the next holiday season with Christmas storage products from 1000Bulbs.com. These storage containers and bags protect your items during the year, help keeping out dust, bugs, and water.
Heavy-duty Christmas tress storage bags are some of our most popular items. These bags are specifically designed to hold Christmas trees between 6 ft. to 9 ft. tall and up to 150 lbs. Laying and wrapping around the tree, the minimize damage to the tree and make it easier to store in your closet, attic, or garage. Christmas tree storage bags are also made of durable nylon and plastic material that keeps out water and dust, helping to protect your tree from damage. These bags are also spacious enough to store other items along with your tree, including garlands and wreaths.
Protect your seasonal décor while it's stored away. Browse our Christmas storage products today!