Combination Smoke and Carbon Monoxide Detectors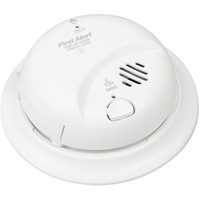 Smoke and Carbon Monoxide Alarm - Detects Flaming Fires and/or CO Hazard
Dual Ionization Sensor - Interconnectable - 120 Volt - Battery Backup - BRK SC9120B
Voltage: 120
Battery Type: 9 Volt Alkaline
Diameter: 5.58 in.
Case Quantity: 12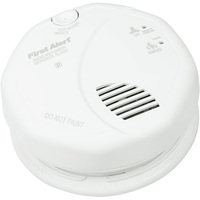 Smoke and Carbon Monoxide Alarm - Detects Flaming Fires and/or CO Hazard
Interconnectable - Photoelectric - 120 Volt - Battery Backup - BRK SC7010B
Voltage: 120
Battery Type: (2) AA Batteries
Diameter: 5 in.
Case Quantity: 12


Smoke and Carbon Monoxide Alarm - Detects Flaming Fires and/or CO Hazard
Photoelectric Sensor - Battery Operated - Sealed Lithium 10 Year Battery - Kidde 21010071
Battery Type: Sealed-In Lithium
Diameter: 5.22 in.

Combination Smoke and Carbon Monoxide Detectors
Combination smoke and carbon monoxide detectors are essential safety devices that every home should have. With two sensors in one unit, they efficiently detect smoke and dangerous CO gas, providing a quick and effective warning with a loud alarm.
Benefits of Combination Smoke and Carbon Monoxide Detectors
There are several benefits to installing a combination smoke and carbon monoxide detector, including reduced clutter and simplified installation. These devices are designed for maximum protection, mounted on a ceiling or high wall to detect smoke particles and CO gas. To ensure reliable performance, it's essential to follow the manufacturer's instructions for proper placement.