6 in. Leg Spacing - Plug and Play
1700 Lumens - T8 U-Bend LED - 15 Watt - 4100 Kelvin
6 in. Leg Spacing - Works with Electronic Ballasts - 120-277V - Case of 12 - TCP 88LT800074
Life Hours: 50,000
Compatibility: Instant Start, Rapid Start
Operation: Type A Plug and Play
Lampholder(s): Non-shunted, Shunted
Warranty: 5-Year Limited
Case Quantity: 12
Sold only by the Case of 12 for $125.38
TCP-10312CS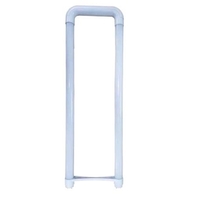 1700 Lumens - T8 U-Bend LED - 15 Watt - 5000 Kelvin
6 in. Leg Spacing - Works with Electronic Ballasts - 120-277V - Case of 12 - TCP 88LT800075
Life Hours: 50,000
Compatibility: Instant Start, Rapid Start
Operation: Type A Plug and Play
Lampholder(s): Non-shunted, Shunted
Warranty: 5-Year Limited
Case Quantity: 12
Sold only by the Case of 12 for $125.38
TCP-10313CS


2200 Lumens - T8 U-Bend LED - 15 Watt - 4000 Kelvin
6 in. Leg Spacing - Works with Electronic Ballasts - 120-277V - Case of 12 - PLT Solutions - PLT-90023
Compatibility: Instant Start, Program Start
Operation: Type A Plug and Play
Lampholder(s): Non-shunted, Shunted
Warranty: 5-Year Limited
Case Quantity: 12
Sold only by the Case of 12 for $151.61
PLT-90023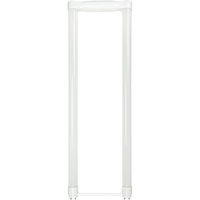 2100 Lumens - T8 U-Bend LED - 15 Watt - 3500 Kelvin
6 in. Leg Spacing - Works with Electronic Ballasts - 120-277V - Case of 12 - PLT Solutions - PLT-90022
Compatibility: Instant Start, Program Start
Operation: Type A Plug and Play
Lampholder(s): Non-shunted, Shunted
Case Quantity: 12
Sold only by the Case of 12 for $152.63
PLT-90022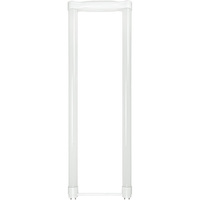 2200 Lumens - T8 U-Bend LED - 15 Watt - 5000 Kelvin
6 in. Leg Spacing - Works with Electronic Ballasts - 120-277V - Case of 12 - PLT Solutions - PLT-90024
Compatibility: Instant Start, Program Start
Operation: Type A Plug and Play
Lampholder(s): Non-shunted, Shunted
Warranty: 5-Year Limited
Case Quantity: 12
Sold only by the Case of 12 for $152.63
PLT-90024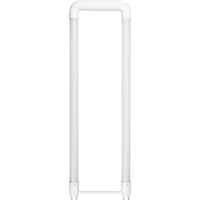 2200 Lumens - T8 U-Bend LED - 16 Watt - 4000 Kelvin
7 in. Leg Spacing - Works with Electronic Ballasts - 120-277V - Case of 12 - Green Creative 97959
Life Hours: 50,000
Compatibility: Instant Start, Program Start
Operation: Type A Plug and Play
Lampholder(s): Non-shunted, Shunted
Warranty: 5-Year Limited
Case Quantity: 12
Sold only by the Case of 12 for $228.88
GREENCREATIVE-97959-CS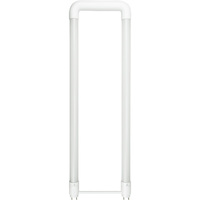 2200 Lumens - T8 U-Bend LED - 16 Watt - 3000 Kelvin
6 in. Leg Spacing - Works with Electronic Ballasts - 120-277V - Case of 12 - Green Creative 97958
Life Hours: 50,000
Compatibility: Instant Start, Program Start
Operation: Type A Plug and Play
Lampholder(s): Non-shunted, Shunted
Warranty: 5-Year Limited
Case Quantity: 12
Sold only by the Case of 12 for $228.88
GREENCREATIVE-97958-CS


Producing 1800 to 2000 Lumens, these LED plug-and-play T8 tubes must be used with a compatible fluorescent ballast. Check compatibility by looking to see your ballast's part number is listed in the ballast compatibility PDF hyperlinked on the product page. Once you have verified you ballast is compatible, simply plug in the new LED T8 tube. There is no need to rewire the existing fixture or replace lampholders, making installation a breeze. For areas where you want adjustable light output, look for tubes that are dimmable. LED T8 tube certified by DesignLights Consortium (DLC) may qualify for state or local rebates.
Use color temperature (color of the light produced) to help narrow down lamp choices for your application. LED tubes producing a 3000 to 3500 Kelvin are generally used in lobbies, waiting areas, hallways, and other similar locations where a welcoming feeling is desired. A cool white 4000 Kelvin light helps reduce eyes strain, making this color temperature a popular choice for classrooms, offices, and hospitals. Simulating daylight, 5000 Kelvin light is often used in workshops, warehouses, and manufacturing facilities where improved concentration and visibility is essential.
For help finding the right plug-and-play 1800 to 2000 Lumen LED T8 tube for your retrofit application, call 1-800-624-4488 now to speak to a lighting expert.