6 in. Leg Spacing - Type C - Requires the use of an External Driver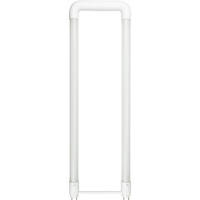 2200 Lumens - 14 Watt - 4000 Kelvin - T8 U-Bend LED - Type C
6 in. Leg Spacing - Required External Driver Sold Separately - 120-277 Volt - Case of 12 - Green Creative 98338
Life Hours: 60,000
Operation: Type C External Driver
Lampholder(s): Non-shunted, Shunted
Warranty: 5-Year Limited
Sold only by the Case of 12 for $200.38



Type C LED U-bend Retrofit Tubes – 6 in. Leg Spacing - Requires the Use of an External Driver
Type C LED U-bend retrofit bulbs with 6-inch leg spacing are designed to replace traditional fluorescent U-bend bulbs in commercial and industrial settings. These LED bulbs offer several advantages over fluorescent bulbs, including improved energy efficiency, longer lifespan, and reduced maintenance costs.
Type C LED driver compatible tubes are a modern alternative to Type A and Type B tubes that function with an external LED driver instead of a ballast. It is essential to purchase the driver with the tubes to ensure their compatibility. The ballast is bypassed during installation, which eliminates compatibility problems and maintenance expenses that are usually associated with ballasts. Once installed, the remote driver enables adjustable dimming with any 0-10V dimmer, providing the flexibility to adjust the wattage as required to increase or decrease the lumen output.
The bulbs' 6-inch leg spacing refers to the distance between the two legs of the U-bend in the bulb. This measurement is important because it determines whether the bulb will fit properly in the fixture. By retrofitting these fixtures with LED bulbs, businesses can save up to 60% on energy costs, reduce their environmental impact, and improve the quality of their lighting.